Almost 1,000 songbirds have died in a single night after smashing into the windows of a glass-fronted exhibition centre in Chicago.
Experts have described this as a "shocking outlier" – as typically, no more than 15 birds would perish at the McCormick Place, the largest convention centre in the US.
David Willard, who has been checking the grounds for decades, described seeing a "carpet of dead birds" on Thursday morning.
"In 40 years of keeping track of what's happening at McCormick, we've never seen anything remotely on that scale," he said.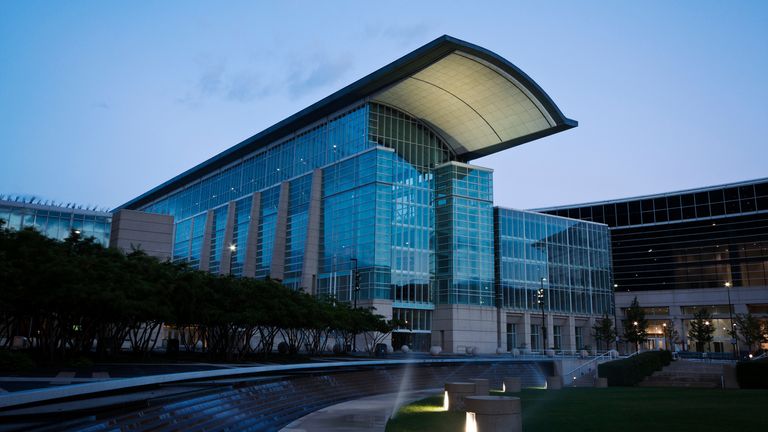 Avian experts say a lethal cocktail of rain, prime migration conditions and window-lined walls were to blame for the mass fatalities.
This is not just a problem in Chicago. In 2014, research suggested anywhere between 365 million and 988 million birds die in window strikes every year across the US.
Birds don't understand that glass is a lethal barrier – and often head for windows when they see plants or bushes reflected in them.
And while species that migrate at night rely on stars for navigation, bright lights from buildings can both attract and confuse them.
Matt Igleski, executive director of the Chicago Audubon Society, said such incidents are "really common".
He explained: "We see this in pretty much every major city during spring and fall migration. This was a very catastrophic single event, but when you add it all, it's always like that."
Songbirds feed during the day and migrate at night to avoid air turbulence and predators, but unusually warm southern winds throughout September left them in a holding pattern.
Northerly winds finally gave them a tailwind to make their journeys on Wednesday night, but rain before dawn meant they were forced to fly at lower altitudes.
Read more US news:
Simone Biles reaches huge milestone
Jason Derulo denies sexual harassment
Spacecraft to explore giant metal asteroid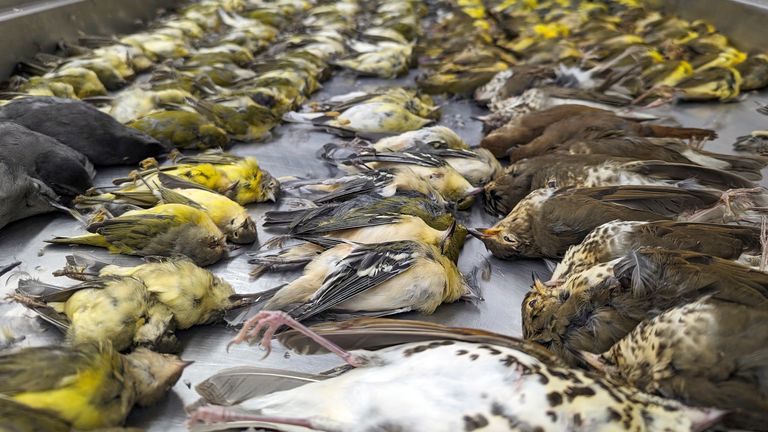 A total of 964 birds across 33 species died at the exhibition centre – 700 more than at any point since the 1980s.
Experts say window strikes are preventable, and even dimming the lights on buildings can make a huge difference.
Architects can also design windows with markings in the glass that birds can easily recognise.
New York City intermittently turns off the twin beams of light symbolising the World Trade Centre during its 9/11 memorial ceremony to prevent birds from becoming trapped.
A nationwide Lights Out programme also exists during migration months – and while buildings in Chicago have had to follow stricter bird safety standards since 2020, McCormick Place was constructed in the late 1950s.
A spokeswoman for the complex said the hall turns interior lighting off unless it is needed by staff, clients or visitors – but an event had been going on there all week.
Mr Willard, who made the grim discovery, said: "It's an odd building. When it was built, people weren't thinking about bird safety. They still aren't in most architecture.
"It's right on the lakefront. There are many nights when it's lit up. People are describing the whole night of migration as part of a once-in-a-lifetime thing … [but] this still is an unacceptable intrusion by humans and their architecture. Just terribly sad and dramatic."