A school caretaker in the US has been accused of contaminating food and kitchen utensils with bodily fluids and bleach.
Giovanni Impellizzeri was working at Elizabeth Moore School, New Jersey, when he allegedly wiped his private parts on kitchen utensils.
According to prosecutors, he is accused of contaminating food and utensils in the school cafeteria with urine, faeces and saliva, as well as bleach – and it was "allegedly offered for consumption to school students and/or staff".
Impellizzeri also allegedly performed sex acts with school objects, spat on bread, and sprayed bleach into a container of cucumbers "with the intention of harming the students".
The cucumbers were likely to have been served to children at the school, according to the legal documents.
The 25-year-old, of Vineland, New Jersey, was arrested on Tuesday after numerous anonymous tips sent to the school about lewd social media posts by Impellizzeri were passed on to the police.
According to legal documents, Impellizzeri posted "extremely disturbing videos of himself while at work" on a Telegram group thread.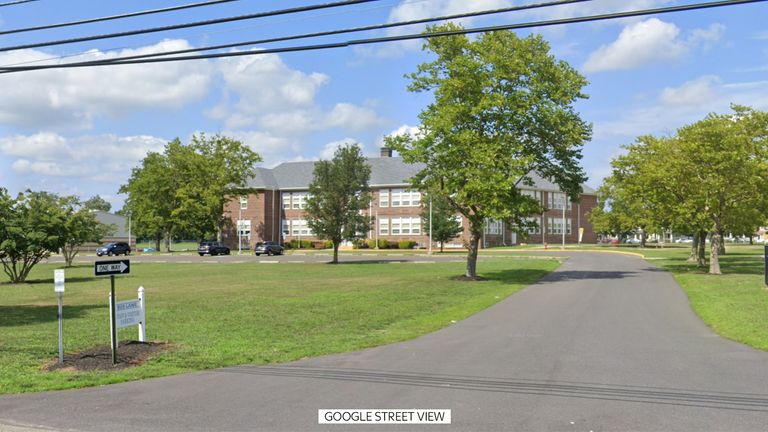 Cumberland County Prosecutor Jennifer Webb-McRae said authorities had determined Impellizzeri performed the acts while employed at the school – where he had worked since September 2019.
However, they said they were unsure whether the acts were committed recently or at an earlier date.
Impellizzeri was charged with aggravated assault, tampering with food products, endangering the welfare of a child and attempted misconduct, prosecutors said.
He was also charged with official misconduct.
Read more from Sky News:
Car crashes into pub beer garden, killing five people
Mayor found dead after pictures published of him wearing women's clothes
Boy stabbed in one of UK's most dangerous areas – and situation 'getting worse'
Cumberland County Prosecutor's Office said the school was collecting samples of bodily fluids to determine whether there was a health risk for those who have consumed food from the school's cafeteria.
"The Upper Deerfield Township School District has fully cooperated with authorities," the prosecutor's office said in a statement.
"The school district is working closely with the Cumberland Country Department of Health to ensure food preparation, serving utensils and surfaces have been properly sanitised and any food products in question have been discarded."
Impellizzeri was placed on administrative leave following his arrest, the Upper Deerfield School District told NBC News, Sky's US partner.