A veteran cabinet minister has refused to say whether Suella Braverman will still be home secretary in a week's time.
Asked about Ms Ms Braverman on Sunday Morning with Trevor Phillips, Defence Secretary Grant Shapps said that a "week is a long time in politics" – and that he would not be making any predictions.
The make-up of the cabinet is "entirely a matter for the prime minister", he added.
Politics latest: Minister questioned on Braverman's future after far-right violence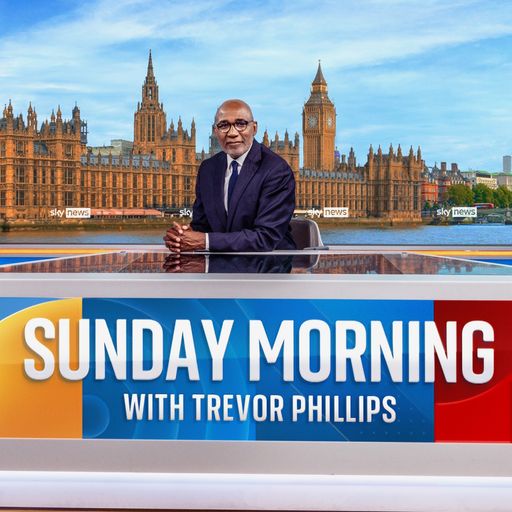 Sunday Morning with Trevor Phillips
Watch live each week on Sunday at 8:30am on Sky channel 501, Freeview 233, Virgin 602, the Sky News website and app or YouTube.
This lack of an endorsement followed calls from Labour's shadow home secretary Yvette Cooper for Rishi Sunak to sack the home secretary.
The controversy comes following yesterday's unrest in London, when pro-Palestine protesters marched through London – as did counter-protesters.
There were dozens of arrests on both sides, and more are expected.
Ms Braverman has been accused of heightening tensions with an article she authored last week in The Times, which accused the Metropolitan Police of having double-standards on how it polices different protests based on political affiliation.
Downing Street is currently investigating how the article was published without edits they had wanted to be made.
There will be increasing pressure on Ms Braverman this week in the run-up to Wednesday, when a judgement is expected on the legality of the government's Rwanda deportation scheme.
Read more:
King to lead Remembrance Day service at Cenotaph
Met appeals for help identifying protesters
Sam Coates: Question of when – not if – Braverman leaves her job
Asked about Ms Braverman's future, Mr Shapps highlighted that he wanted to spend this weekend paying tribute to people "who have bravely given their lives".
He seemed to play down the suggested impact Ms Braverman had on encouraging people to demonstrate – saying: "Those people who were going to come and try and disrupt this weekend had already said they were going to do it.
"They were doing it in their own twisted way because they were protesting themselves against other marches."
Guto Harri, who was director of communications in Downing Street under Boris Johnson, pointed out to Trevor that "no cabinet colleague has come out and said she was making a valid point" on policing.
"So I think she is in trouble in that sense. And a week is a long time in politics," he added.
'The govt made it harder for police'


Speaking to Trevor earlier in the programme, Ms Cooper said that Ms Braverman's position as home secretary "is a matter for Rishi Sunak – I think he needs to deal with this".
She added: "I think he appointed her, and he needs to do something about it, because otherwise all that he shows is he is weak, he doesn't care about policing, and he doesn't care about the security of our country."
Ms Cooper pointed out in her interview that Mr Sunak – in a statement released last night – did not thank the police for their work on Saturday.
Adam Boulton: Met chief has firmer grasp on liberal democracy than Braverman
"I was just shocked that there wasn't a word of thanks for the police in the statement," she said.
"We saw police under attack having missiles thrown at them and having to deal with people who were trying to climb over fences, climbing onto walls to try and get to the cenotaph.
"The police made sure that they didn't – and we should thank them for that."
When this was put to Mr Shapps, he said that "of course the prime minister is grateful to the police" – adding that it "goes almost without saying".