Jared Leto está aquí para que la gente lo compare con Scott Disick y prácticamente está cruzando los dedos y esperando que sean parientes perdidos hace mucho tiempo, porque ¿quién no quiere una dosis de drama Kardashian en su vida?
El ganador del Oscar finalmente respondió a los rumores familiares de larga data mientras estaba en TikTok Radio de Sirius XM, y el anfitrión Davis Burleson mostró imágenes de Scott y Jared, lo que provocó que el actor dijera: "Wow, ¿En serio? Qué suerte tengo. Gracias".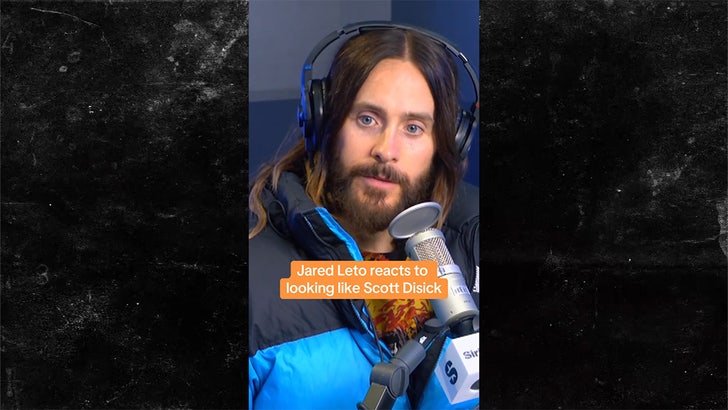 Sirius XM TikTok Radio
Davis le preguntó a Jared si él también veía su asombroso parecido con la estrella de "KUWTK" (Keeping Up with the Kardashians), pero Jared no estaba del todo convencido, "Es difícil cuando te miras a ti mismo. Pero dicen que las personas que se parecen, en realidad comparten mucho ADN".
Profundizando, el gurú espiritual continuó: "Ya sabes, si hay alguien como, "Oh Dios mío, te ves exactamente como este tipo", en realidad podría estar relacionado de alguna manera".
Tal vez sobreestimando el valor neto de Lord Disick en comparación con el suyo, Jared dijo que "estaría bien" ¡tener un pariente rico!
Jared ha cruzado caminos con los miembros de la familia Kardashian/Jenner antes, incluso la ex de Scott, Kourtney Kardashian, pero nunca se reuniron.
Esperemos que se relacionen pronto y entonces podremos pasar a otro misterio de parecido: ¡el fallecido, gran Gene Wilder y la estrella de "El Oso", Jeremy Allen White! Ahora en serio. ¿No creen que son iguales?