This Bridgerton review is spoiler-free.
With concise storytelling, character development, and big-budget Hollywood aesthetics, Netflix's latest original television series, Bridgerton, represents the best of British period drama. The series is based on Julia Quinn's romance novels and production company Shondaland adapted the books with a unique focus on Black and POC representation rarely seen in period dramas. It is safe to say the series has set a new standard for other productions in the genre to follow. Some viewers may be concerned that the pre-release promotion and dialogue around Bridgerton may just be giving lip service to advancing diversity and representation. But, when it comes to racial inclusivity, Bridgerton lives up to and even surpasses expectations.
Adapting the Bridgerton novel series for TV is particularly tricky as each book focuses on one romantic relationship with other characters moving in occasionally conflicting orbits as supporting characters. The series' scripts successfully transform the story into a true ensemble effort while also weaving in occasional changes and characterization shifts original to the series. 
The main focus of the miniseries is, of course, the Bridgerton family, as widowed Lady Violet Bridgerton (Ruth Gemmell) attempts to steer her eight children through growing up and the marriage market. From oldest to younger: Anthony (Jonathan Bailey) inherited his father's title Lord but he's shirking his responsibility. Benedict (Luke Thompson) is a spare heir and realizes he can forge his own life outside of the strict lines of the Ton. Colin (Luke Newton) is now exploring the marriage market. But all eyes are on the oldest daughter, Daphne (Phoebe Dyvenor), as this is her debut into society. Her younger sister, Eloise (Claudia Jessie), rejects the marriage market but still manages to pay attention to the society gossip. 
Lady Violet is not the only mother in the Ton with daughters to marry off. The brassy and ostentatious Lady Portia Featherington (Polly Walker) wants Prudence (Bessie Carter), Phillipa (Harriet Cains), and Penelope (Nicola Coughlan) to secure good matches, but suitors aren't exactly keen. It's also not exactly helpful that they have to host Lord Featherington's (Ben Miller) hot cousin from the countryside, Marina Thomspon (Ruby Barker), who could turn potential suitors her way. 
Although Queen Charlotte (Golda Rosheuvel) is the head of the social scene, the real boss is the gossip mill. The mysterious Lady Whistledown (voiced by Julie Andrews) knows who was the worst dressed at the ball, who had a tryst, and who made a major social faux pas and is all too eager to spill everyone's secrets in print. 
Although Lady Whistledown is perhaps the most fantastical element in the script, her omnipresence in everyone's affairs is a necessary representation  of the limits on reimagining Regency society. At its core, the Ton is obsessed with sustaining wealth, titles, and property. Marriages of virgin women to the eligible bachelors ensure financial and social security for the next generation. The high class single men could have numerous liaisons while only at worst be called a "rake" while the reputation of a wealthy single woman is completely destroyed. This dichotomy is essential to understanding the novel and, in turn, the choices the characters make throughout the episodes.  
Although there are constraints in terms of gender and class politics, the plot leaves the Black and POC characters free from interacting with slavery and colonialism. This is where the impact of having Black and experienced inclusive drama writers, such as Doctor Who's Sarah Dollard, can be seen the most. While some critics may insist that this is a piece of realism the show needs, the intense focus on fantasy renders the need for realism moot. There are only two references to slavery: one is an illusion of a historical event during the slavery era and the other is a reference to Black assimilation into society. Both could be interpreted as classism clashes, but the first is definitely a historical Easter Egg of sorts. All of the Black and POC characters deal with family, relationships, and in some cases financial conflicts that anyone can relate to.  
Simon, the Duke of Hastings (Regé-Jean Page), is the Ton's most eligible bachelor. He contains the multitudes of Regency leading man tropes. Simon is handsome, has several million pounds in the bank, and refuses to marry despite being the most eligible bachelor. The script does a much more effective job in portraying Simon's backstory to explain his hesitancy towards marriage and raising a family. Viewers see flashes of Simon's father mocking his stutter and calling him a disgrace to the title. At the same time, the development of Simon's character shows an acute awareness of avoiding negative stereotypes of Black men, especially regarding anger and assertiveness. His pride and intransigence is clearly a trauma response. By the end, even the most skeptical book reader will recognize that a switch in physical appearance didn't completely change Simon's personality.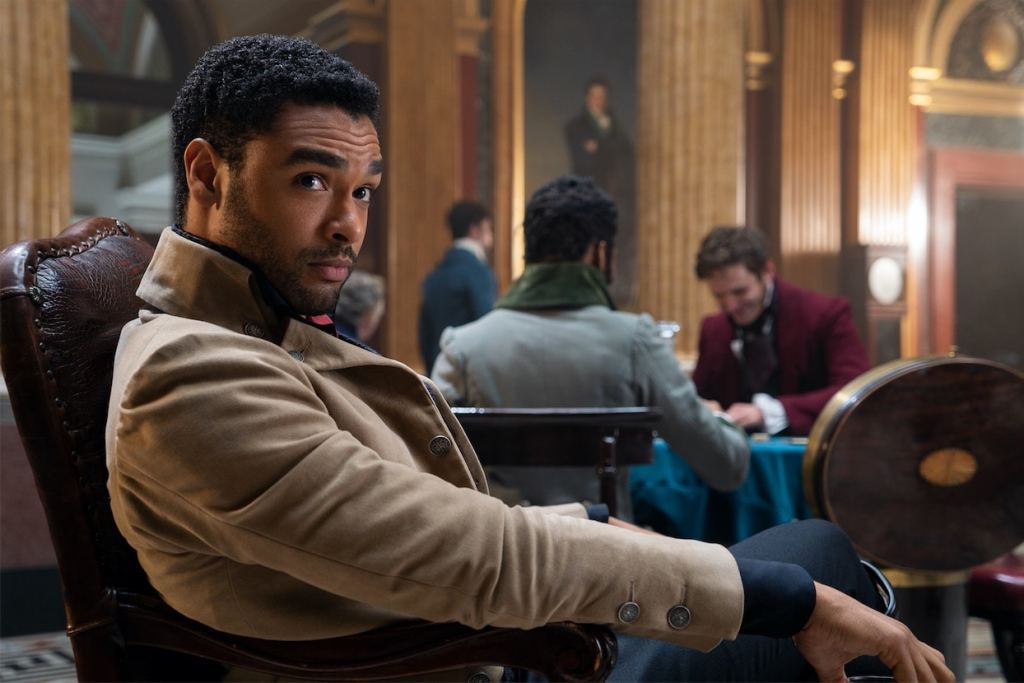 Lady Danbury (Adjoa Andoh) acts as Simon's godmother and advisor. She is an imposing figure but her strength comes from her political and business connections and not from the usual "strong Black women" tropes and, on the flip side of her power moves, is her firm yet tender relationship with Simon. One can argue she is above both Lady Bridgerton and Lady Featherington in the social hierarchy. Black characters like Lady Danbury are extremely rare in period dramas and it is due to the screenwriters' commitment to shifting the existing narrative. It would have been easy for the screenwriters to stop there as far as featuring Black characters, but Bridgerton adds original to the show characters to enrich the book narrative. 
Will Mondrich (Martins Imhangbe) is a boxer who is hoping to provide a more stable living for his wife and kids. The character is a nod to history as Bill Richmond, a former slave turned bare-knuckle boxer is a Regency celebrity. Will is also Simon's friend and occasional sparring partner. Their conversations end up revealing information the women in their lives are not privy to. It would be easy to label him simply as a foil for Simon, but his livelihood presents an intersection of class and sporting ethics at a time before professional regulation. Men of the Ton spend thousands betting on Will's fights, but he takes home only a fraction of those winnings.  Not only is there more exploration of what Regency men did in spaces away from women, Bridgerton ensures that there are Black and POC characters representing every level of society. 
Marina's storyline is clearly a byproduct of class and gender politics versus race. She is the opposite of Daphne and the Featheringtons, as she comes from the countryside and lives modestly. Lady Whistledown makes particular note of her ability to attract interested suitors. Her natural hair and visibly African features are seen as a positive thing, and many come to call on her which is such a refreshing sight in a genre so stuck on white standards of beauty.  Marina may not wish to be constrained by the rules of the Ton but she does not have that luxury. She must make her way through society to make the best of what is offered to her.
Many in the audience may also be looking to see if Bridgerton measures up to previous Regency dramas. It measures up in terms of acting quality and set design but it will fail if people insist on holding the show to historical accuracy standards the creative team rejects. First of all, it is disingenuous to compare a modern romance novel adaptation to adaptations of novels written during or shortly after the Regency. In addition, the show's extensive focus on the richest members of Regency society is in stark contrast to previous miniseries which portray rural landowners and minor gentry. Austen's characters in particular are at least one to two full social classes removed from the Ton. 
The costumes are the biggest visual assistant towards crafting a different aesthetic than previous productions. Queen Charlotte's sky high Afro wig paired with massive brocade gowns, Penelope's sunshine yellow embroidered dress, and differences in the cut of the mens' breeches only scratch the surface of the purposeful design choices. 7,800 costumes are featured in total in Bridgerton, which is easily double or triple the amount of variety in lower budget UK productions. This is a cornucopia of stylish treats for fans who are willing to set aside their design biases. Many will end up seeing themselves as possible members of the Ton and imagine themselves at a ball. Some historical costumers are already discussing which characters they want to recreate costumes for.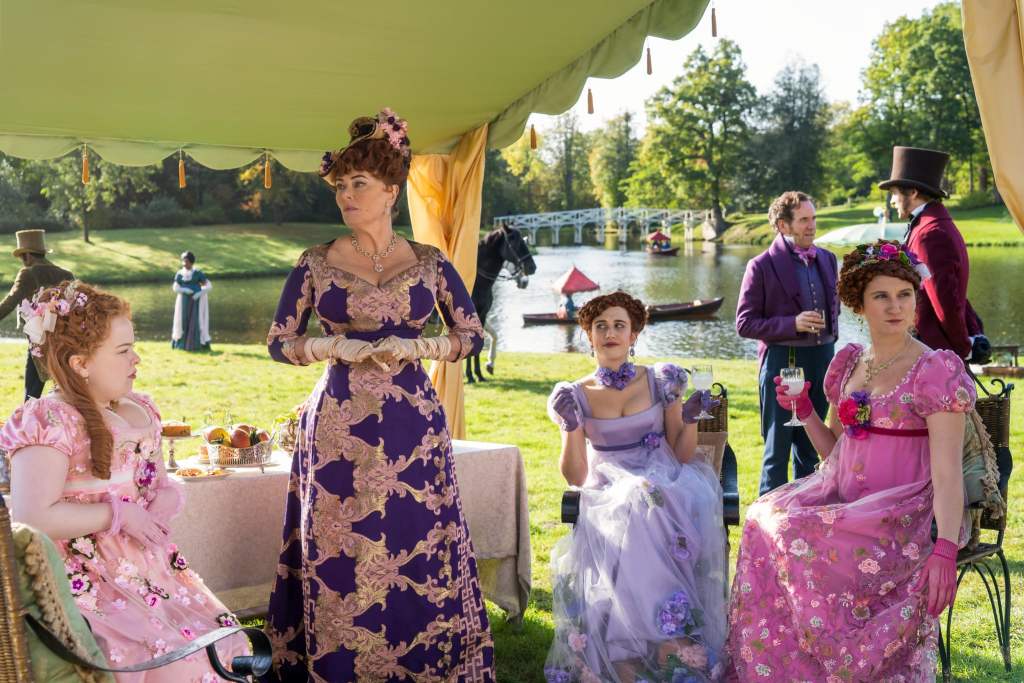 Those who wanted to see an exact replica of existing white-centric aesthetics should definitely avoid the show. It should also be pointed out quite a few of these critics gave productions such as the 2016 War & Peace miniseries, the live action Beauty and the Beast, and Marie Antoinette, a pass on anachronistic and fantasy styling purely because white actors were wearing these costumes. 
All that's missing in the Ton's elegant mansions, country estates, and stately townhouses is indoor plumbing and electricity. Despite all the talk by showrunner Chris Van Dusen and others on the production team about Bridgerton purposefully moving away from recreating history, the set design of the interior and exterior locations show a surprising level of attention paid to era-accurate details. Netflix's almost unlimited budget resources were skillfully used to secure the best UK locations, furniture, and set decorations. The design of scenes such as the Vauxhall Pleasure Gardens and the are where the influence of historical advisor Dr. Hannah Greig is most visible.
Genre purists may bristle at Bridgerton being described as a "Regency Gossip Girl" but the Lady Whistledown subplot was an overarching plot in the book series before the show existed. Her commentary ties all of the main and subplots together in an effective introduction for non-readers and is an essential component of building the world of the Ton as distinctive from previous productions. 
Every good drama needs some mood music to set the tone. Kris Bower's score is a creative mix of orchestral music and sweeping instrumental covers of recent pop tunes. What's better to evoke the mood of drama at a ball than a cello pushing out "Bad Guy" by Billie Eillish? This is one other aspect where sticking to authenticity would result in blandness. Bower's work is one more example of the show featuring Black creatives behind and in front of the camera. 
Romance, lust, and love are critical components of the miniseries. Viewers that are opposed to more than hugs and kisses should give the series a wide berth. Despite Regency society being known for having strict rituals around courtship, they were not prudes. Bridgerton replaces the Victorian and modern religious tropes common in the genre with vivid portrayals of male and female desire in hetero and queer relationships. A lot of the strictly PF relationship content viewers expect from Regency dramas comes from Victorian purity culture plus religious moralism and is not accurate to the era. These ideas also have racist undertones as well. Having an open minded approach to the variety of human emotions around relationships enriches the overall story versus productions which use sex scenes for shock value. Some critics may believe this to be the case, but this is a fundamental misunderstanding of what romance fiction is all about.  
Although the entire cast brought their A-game to Bridgerton, there are a few standouts that must be specifically mentioned. Phoebe Dyvenor and Regé-Jean Page have excellent chemistry and anti-chemistry depending on the scene. Ruth Gemmell brilliantly portrays Lady Violet as iron-willed but with an endless supply of affection for all her children. Adjoa Andoh brings out the best of Lady Danbury from the books. Nicola Coughlan proves she's a formidable force in drama as well as comedy. Sabrina Bartlett's past work in portraying women on the margins of the 18th and 19th Centuries comes through in Siena Rosso.   
The main elements the show loses points on are certain teasers for future plot development. Some viewers may feel that the series falls slightly short on queer representation as that plot line isn't fully developed by the last episode. In addition, the resolution to the most problematic element in The Duke and I may still leave some viewers unsatisfied as ethical questions remain. 
Bridgerton's eight episodes show the endless possibilities for expanding diversity in romance and period drama on-screen if screenwriters are willing to work alongside authors on a fresh take of their literary world.