More areas in England could be placed into Tier 4 restrictions – equivalent to a lockdown – as the variant COVID strain spreads across the country, the government's chief scientific adviser has suggested.
London and vast swathes of southeast England have already been put into tightened measures due to the high presence of the new VUI-2020/01 strain, which is feared to spread more quickly than the original virus.
Sir Patrick Vallance told a Downing Street news conference on Monday that more areas in England could soon see tougher restrictions due to the variant.
Follow live COVID updates from the UK and across the world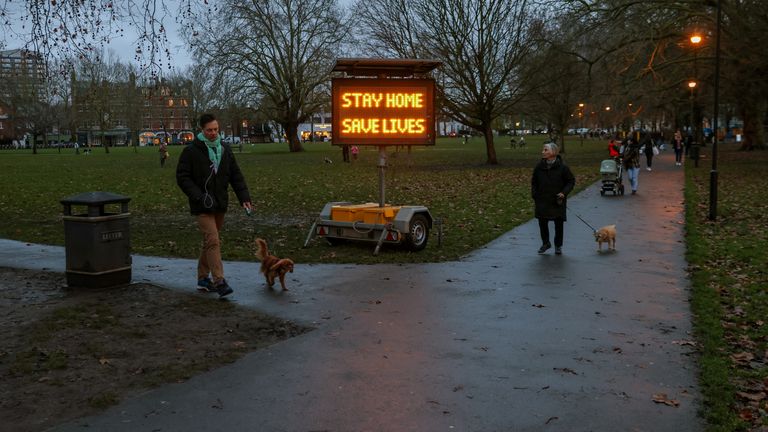 And Prime Minister Boris Johnson cast some doubt over whether schools would return across England in January following the latest development in the coronavirus crisis.
"The evidence on this virus is that it spreads easily, it's more transmissible, we absolutely need to make sure we have the right level of restrictions in place," Sir Patrick said.
"I think it is likely that this will grow in numbers of the variant across the country and I think it's likely, therefore, that measures will need to be increased in some places, in due course, not reduced.
"I think it is the case that this will spread more."
The government's New and Emerging Respiratory Virus Threats Advisory Group (NERVTAG) had met earlier on Monday and Sir Patrick revealed there was now a "reinforced" view that the variant strain was spreading more quickly.
"The conclusion was that the experts have high confidence in the fact that this is transmitting more readily," Sir Patrick added.
"That again reinforces the point that it's important to get ahead of this and to make sure that the tiering system is adequate to stop things going, and not to watch it and react in retrospect."
Sir Patrick said that "inevitable mixing" over Christmas – in those areas where households are still allowed to meet – would mean "some increases in numbers over the next few weeks".
He told people planning to see others on Christmas Day that they should "follow the rules carefully and make an assumption that you could be infectious, you could be the person spreading it to somebody else, and behave accordingly".
Sir Patrick also urged the public to take the new COVID strain "incredibly seriously" and warned that it requires "more action in order to keep it down and that's why Tier 4 is important".
PM working with Macron to 'resolve problems'

Downing Street has previously suggested schools would still reopen in Tier 4 areas after the Christmas holidays.
But, asked about schools on Monday, the prime minister said the return of pupils to classrooms in the New Year would be kept under "constant review".
"The most useful thing I can tell you at this stage is obviously we want, if we possibly can, to get schools back in a staggered way at the beginning of January in the way that we have set out," he said.
"But obviously… the common sensical thing to do is to follow the path of the epidemic and as we showed last Saturday to keep things under constant review.
"But it is very, very important to get kids and keep kids in education if you possibly can."