It's been a staying-in kind of year. That New Year's Resolution you made to travel more? It's gained 20 pounds, started cutting its own hair and is now in a jigsaw club with your neighbour Ken. The only marathon you've completed in 2020 is a Battlestar Galactica rewatch. The only mountain you've climbed is the metaphorical one it takes to shower daily. That beach trip you'd planned? It went okay actually. You made some bells by selling coconuts to Nook's Cranny and dug up a bunch of Manila Clams with a flimsy shovel.
For obvious reasons, escape is on our minds this year more than most. So we started thinking, if you had your wishing socks on, where in the collected imaginations of everyone who's ever dreamt up a film, TV show, game or book, would you spend the holidays? On the holodeck of the Starship Enterprise or roasting on an open fire with The Simpsons, exchanging gifts with Ewoks or witnessing Scrooge McDuck's transformation from miser to philanthropist first hand?  
To get things started, here's what our writers picked…
Alec Bojalad would spend Christmas … reveling with the Sterling Cooper staff on Mad Men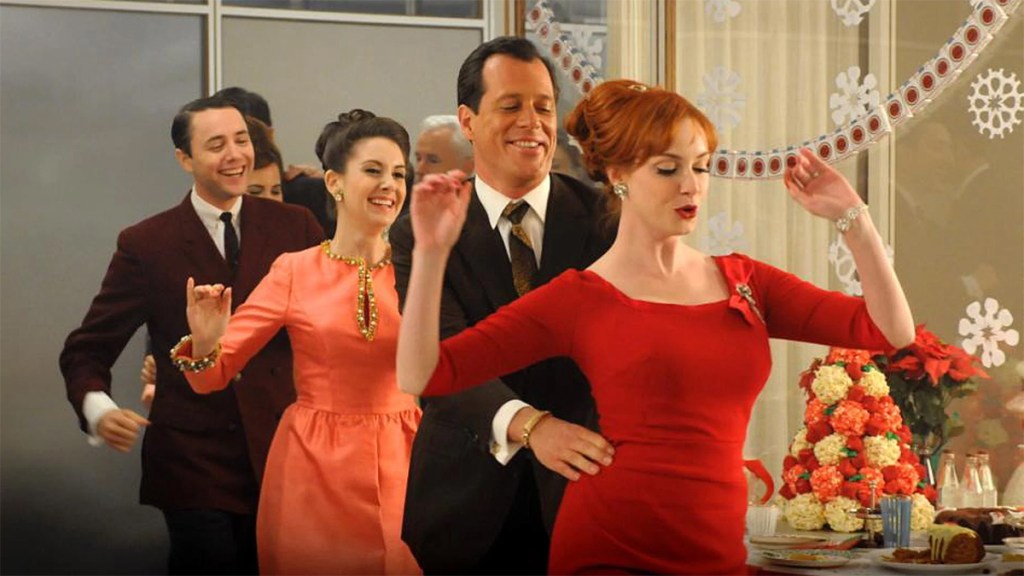 If I'm to indulge this hypothetical in which I'm torn away from one reality and thrust into another, one thing is very clear: I will have to be extremely intoxicated to avoid my heart exploding from the stressful terror of it all. Thankfully, I know exactly where in pop culture to go to get absolutely blitzed: Mad Men. In terms of sheer debauchery, a Sterling Cooper Christmas party probably falls somewhere between a Bacchanalian orgy and Valhalla itself. As Don, Roger, Bert, Peggy, and company gather together to celebrate another successful year schmoozing clients and sexually harassing one another, I will don my finest 1960s attire and infiltrate the festive event. 
As Don Draper wonders who this soft-bodied weirdo in an ill-fitting suit is, I'll catch up with Harry Crane about television. Then I'll ask to see Bert Cooper's weird tentacle porn painting. Sometime around my 9th J&B Whisky on the rocks I'll visit the secretarial pool and beg them to demand better treatment because "you'ree ssssooo strong and eleganttt. Don't listen to thessseee men. They're Mad Men." Hopefully I'll be taken away to an old-timey hospital at that point, given electroshock treatment, and return back to my own continuity.  
Ryan Britt would spend Christmas… at Deanna and Will's cabin from Star Trek: Picard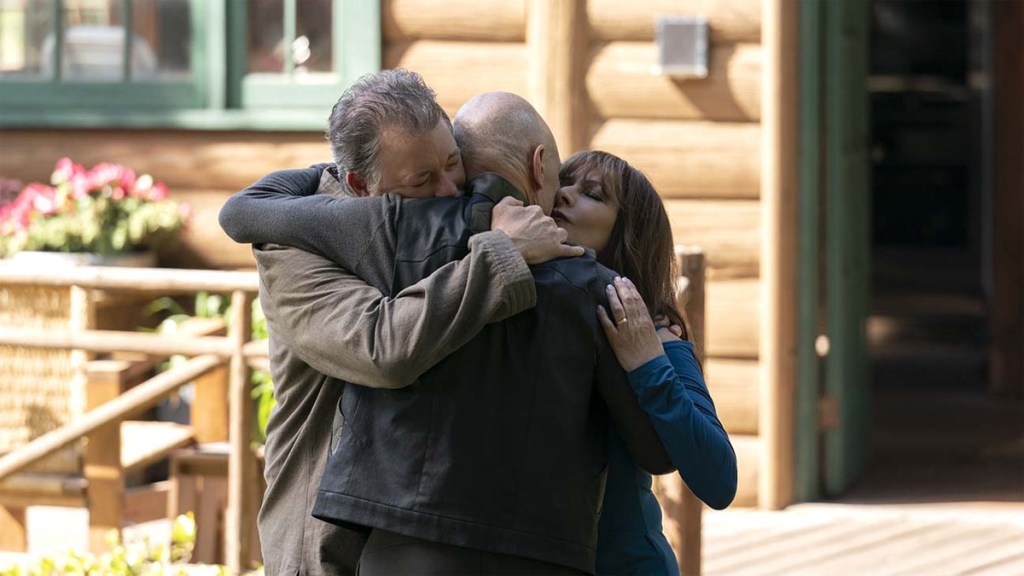 When Jean-Luc Picard uses the spatial projector to zap himself and Soji across the galaxy to the planet Nepethene, the result is a cozy pizza dinner with Will Riker, Deanna Troi and their daughter Kestra. For those who had been pining for more '90s nostalgia in this Trek series, the episode 'Nepthene' delivered, but with a strong shot of realism. Although Picard was written and created before the Covid-19 pandemic, the idea that Riker and Troi would leave the busy and crowded life of Starfleet, and retire in a remote cabin to protect their family is a choice many have actually faced in 2020. As people around the world have fled pandemic epicenters and tried to put shields around their own families, the peaceful and remote home of the Riker-Trois represents the optimistic ideal of Star Trek with a quiet, and very close-to-home twist. 
Spending time with the Riker-Troi family would mean great conversation, great music (oh the jazz!) and, above all, great food. I would happily put my own family in their 'pod' if only so Kestra could teach my three-year-old daughter the best way to construct a bow and arrow, and of course, how to learn that secret language of butterflies. 
Then, after the kids were in bed, having a glass of wine or some Romulan whiskey with Will out on the porch sounds pretty damn perfect. 2020 has been tough. A bear hug from Riker seems like the perfect Christmas gift of all. 
Caroline Preece would spend Christmas… at The Muppet Christmas Carol's Penguin Skating Party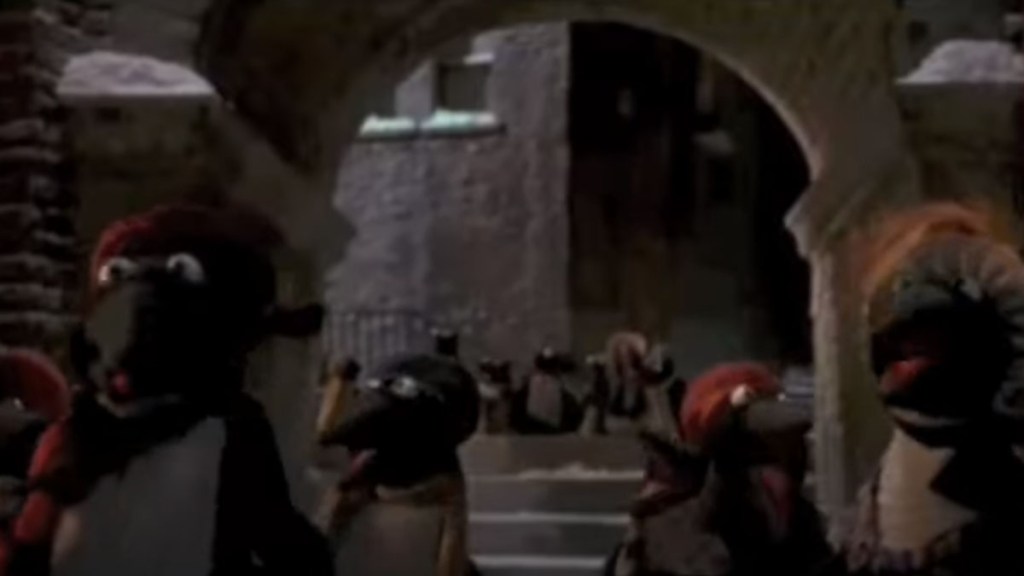 Ever since young-me set eyes on the ultra-festive world of The Muppet Christmas Carol I've wanted to visit. I can't imagine a better way to spend Christmas Eve than in the cuddly version of Dickens' cautionary tale, helping Kermit and his co-workers tidy up Scrooge's office for the holidays, dancing down the snowy London streets and attending the Penguins' annual Christmas skating party as the ultimate topper to a perfect evening. 
As well as being super-merry and joyous ('tis the season), judging by Kermit's performance on the ice, they let anyone take part.
It could just be the general lack of socialising and festive frivolity in 2020, but Bob Cratchit's hopeful walk home from the office (remember the office?!?) on the night before Christmas has always epitomised the idea that the anticipation of Christmas Day is the best part. Add to that a trip to the market to pick up some singing vegetables, or the cosy Cratchit dinner with Miss Piggy and their gaggle of pig and frog offspring, and it's a version of old-timey festive cheer that will always hold a place in my heart.
Louisa Mellor would spend Christmas… with the strippers in Hustlers
This choice won't reflect well on me. It's neither edifying nor improving and has a core of savage capitalist consumerism, which is probably what makes it so Christmassy. Midway through Lorraine Scafaria's Hustlers – a film about a group of strippers who right the wrongs of the 2008 financial crisis by drugging Wall Street guys to run up their company credit cards – there's a scene that'd make anyone's heart grow three sizes. 
A dozen lap dancers gather for Christmas in a high-end apartment, their daughters and a grandmother in tow. Dressed in luxe loungewear and chunky gold, their skin glowing like a sucked butterscotch, they swap gifts, smile and sing and dance and thank the lord for their sisters. Expensive elegance is everywhere. Someone gets a fur coat, somebody else a pair of animal-print Louboutins. The woman who dips the dancers' tits in bowls of ice before they go on stage is given an iPhone 4. Mostly though, they give each other affirmation. Without a natural hair colour, nude fingernail or a man in sight, it's a dream family Christmas. Picture a Norman Rockwell painting with Jennifer Lopez in gold lamé, a cashmere Santa hat and a balcony bra. Feel-good festive perfection. 
Michael Ahr would spend Christmas… secluded in Hogwarts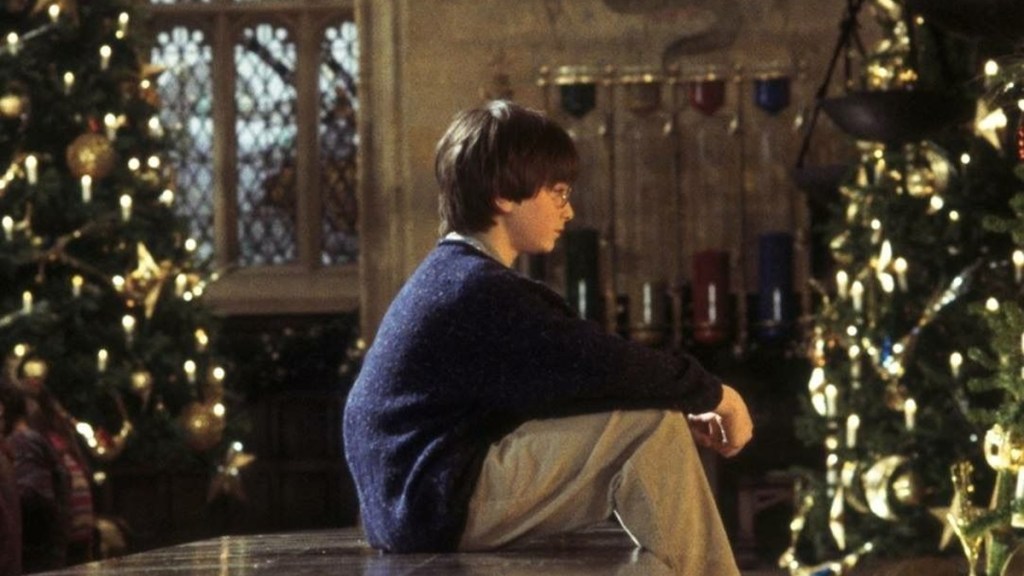 Some may have found Harry Potter's winter holidays without his friends rather lonely, but I can think of nothing more magical than having the vast empty halls of Hogwarts School of Witchcraft and Wizardry all to myself. Why let the staff have the warm, dry, magical snow that fell annually in the Great Hall all to themselves? Not being of school age myself anymore, I might choose to share a butterbeer (or perhaps a hot buttered rum) with Dumbledore and Hagrid by a roaring fire.
I might even be tempted to make the trip to Hogsmeade to see all the shops decked out with lights and blanketed in snow. I'd still be able to enjoy the comparative solitude without all the kids running around, but I'm almost certain there would be a group of carolers wandering about the square, never mind the singing enchanted suits of armor back at the school. And of course, if I could pick a particular present, I'd choose to receive the same amazing gift Harry received that first Christmas from Dumbledore: his father's Invisibility Cloak. I'd likewise pass it along as a family heirloom to my own children on some Christmas morning to come.
Jamie Andrew would spend Christmas… in a Deep Space Nine Holosuite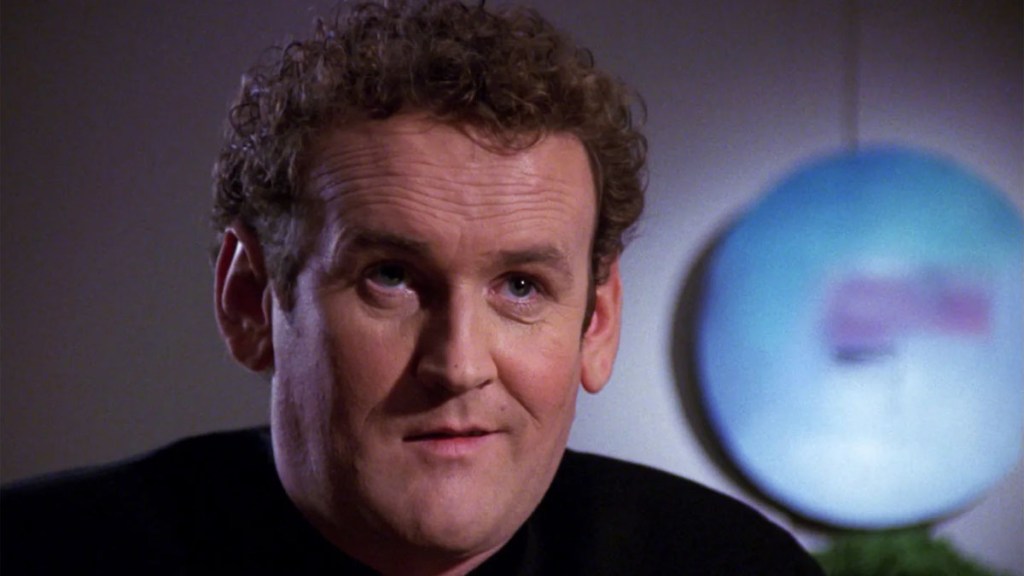 At first, I entertained the idea of spending Christmas in Baltimore with the denizens of The Wire, mainly because I liked the idea of children running up and down the streets hollering, 'Omar's coming!' moments before the shotgun-wielding Robin Hood of the Hood came swaggering down the street wearing a big red coat and a white beard, tossing out bank notes and whistling 'We Wish You a Merry Christmas'. Then I realised that the chances of me ending up a corpse inside a boarded-up derelict building before the turkey was even cooked were surprisingly high, so I thought I'd try Christmas with Frasier Crane and family instead. Unfortunately, my foreknowledge of Martin's and Eddie's deaths would cloud the occasion, and I'd probably spend all night slumped crying in Martin's recliner, unable to tell anyone why I was so upset without violating the temporal time directive. 
Best, then, to spend Yule time on Deep Space Nine. Christianity and its associated festive traditions don't appear to exist in the 24th Century, so after saying hello to Sisko and co., and maybe playing a bit of Dabo at Quark's, I'd probably spend the rest of my time in a faithful Holosuite reproduction of a 1990s Irish bar on New Year's Eve getting absolutely wasted with fellow Celt Chief O'Brien. Now THAT'S what I call Christmas. 
Juliette Harrisson would spend Christmas… in Narnia
Not, of course, the White Witch's eternal winter, when it's always winter but never Christmas, but a regular Christmas in Narnia. It would, of course, be a white Christmas because otherwise, how would Father Christmas come and deliver presents to everyone? So I could spend the season in a snowy woodland surrounded by magical creatures, and be in with a chance of a really good present. Or possibly a sewing machine.
On the first moonlit night when there's snow on the ground, Narnian fauns, dryads, and dwarfs perform the Great Snow Dance, with the fauns and dryads dancing around while the dwarfs throw snowballs that don't hit them (an often forgotten detail from the book version of The Silver Chair!). I would join in, although possibly not throw any snowballs as my aim isn't that good. Then I'd go back to Mr Tumnus's for sardines and cake on Christmas Eve and talk to him about his somewhat dubious taste in books (just what is Nymphs And Their Ways about, eh Tumnus?). I'd spend Christmas Day up at the castle of Cair Paravel, eating and drinking like a Queen, and then I'd go visit Mr and Mrs Beaver on Boxing Day for a feast of leftovers and maybe a little light ice fishing.
John Saavedra would spend Christmas…celebrating Life Day with Star Wars' Poe Dameron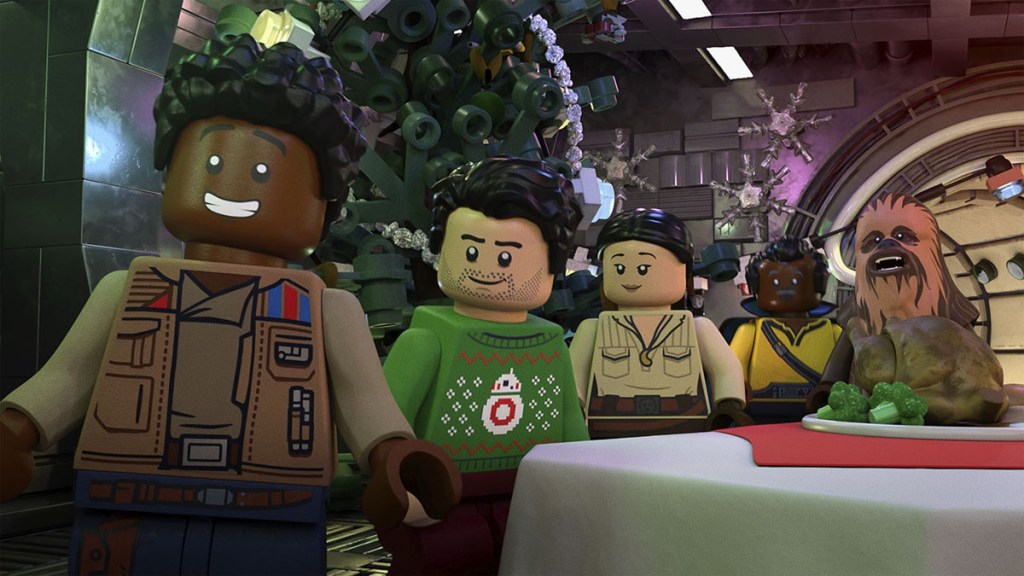 No one has ever cared so much about Life Day, the Star Wars galaxy's own version of Christmas, as much as ace pilot Poe Dameron does in the Lego Star Wars Holiday Special. From decorating the Millennium Falcon and choosing the right Life Day sweater to roasting the traditional tip-yip (also known as Endorian chicken), Poe shows there's something much stronger than the Force in the Star Wars universe: holiday spirit. Who knew the Resistance hero best known for his knack at blowing stuff up had such a soft spot? 
Hanging with Poe on Life Day would mean chestnuts roasting on an open exhaust engine, drinking whatever passes for cocoa in the Star Wars galaxy, hanging out with Wookiees on their homeworld of Kashyyyk, singing festive carols in Huttese, and finding just the right Life Day tree for the Falcon. It'd also mean dancing to the hip tunes of Max Rebo's drum (the rest of his band is unfortunately no longer with us) and partying with Lando Calrissian, Finn, Rose, Rey, Jannah, Mon Calamari, Jawas, Rodians, Ewoks, and maybe even Chewie's son Lumpy. If you're not sold by now, your taste in holiday parties might be bantha poodoo. 
Elizabeth Donoghue would spend Christmas…. at The Office's Classy Christmas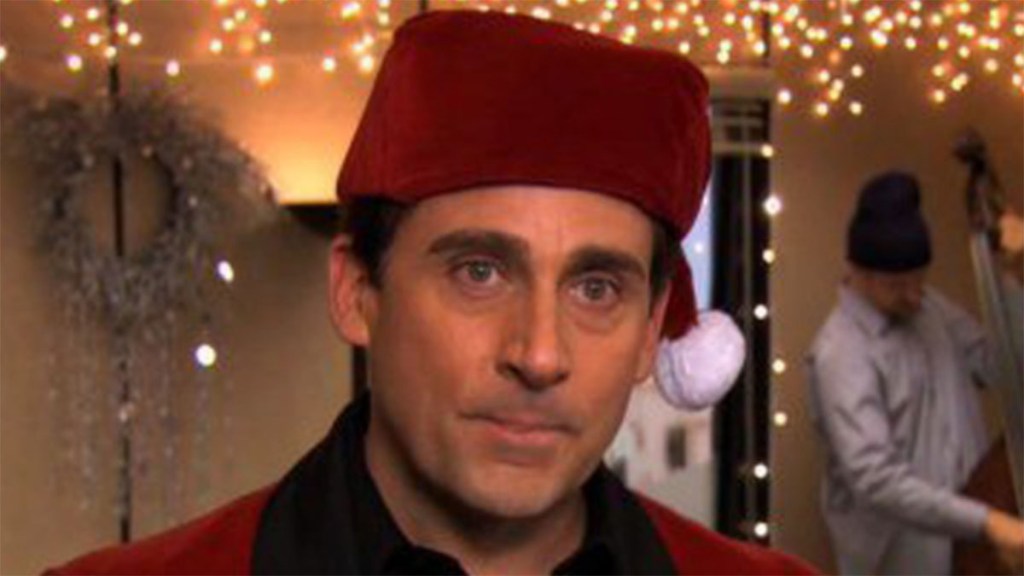 Dunder Mifflin has many memorable Christmas parties, but Steve Carell's final festive special includes some of my favourite things about The Office; weird Gabe, Michael's enduring hatred of Toby, and Michael and Holly's adorable relationship.
After Toby announces he is taking a leave of absence for jury duty ('Thank you, Scranton Strangler. I love you. You just took one more person's breath away') Michael learns that Holly will be returning to Scranton and demands that Pam's regular Christmas party must get classy. What makes a Christmas classy? A backwards Kangol-esque Santa hat, a red velvet smoking jacket and a quarter of a jazz quartet of course.
I would actively enjoy watching Dwight take down Jim in their snowball fight (total bully, needs to be taken down a peg or two), get drunk with Kelly and Meredith, dance with Phyllis and Erin and learn more about the enigma that is Creed. And although it is slightly more subdued than their Benihana and Moroccan Christmas parties, I'm sure we could keep the party going at a Poor Richard's after-party.
Kayti Burt would spend Christmas … on Themyscira
The Amazons' decision to opt out of the "Patriarch's World" has always been a relatable one, but never so much as in The Year 2020. Historically, I'm not really a beach person, but Themyscira, aka Paradise Island, has a lot going for it: warm weather, a supportive community, and live sporting events where you don't have to worry about some drunken dudebro spilling cheap beer on your toga. 
As far as I can tell from the Wonder Woman movies, no one (besides Young Diana, who's usually working through some stuff) ever seems to be having a bad time on Themyscira. And why would you? The pre-Crisis comics incarnation of the island (which I am going to choose to accept as my holiday canon) includes indigeneous kangaroo-like creatures called Kangas that the Amazons ride like horses. Diana's is called Jumpa; mine will be called Jimmy Hoppa, and we will explore the island's cascading waterfalls and cliffside terraces together. In the evenings, I will attend performances at the Themysciran amphitheater with my new Amazonian friends or, if I'm feeling introverted, catch up on my book reading and crossword puzzles.
Listen, I wouldn't want to spend forever on Themyscira—I'd miss my friends, family, and TV shows (Themyscira doesn't seem to get a good wireless signal)—but a few weeks (or months, especially as I will be quarantining for my first two weeks) for Christmas 2020? Bring me to the enchanted feminist utopia.
Alana Joli Abbott would spend Yule… at the coven house from the Nightcraft Quartet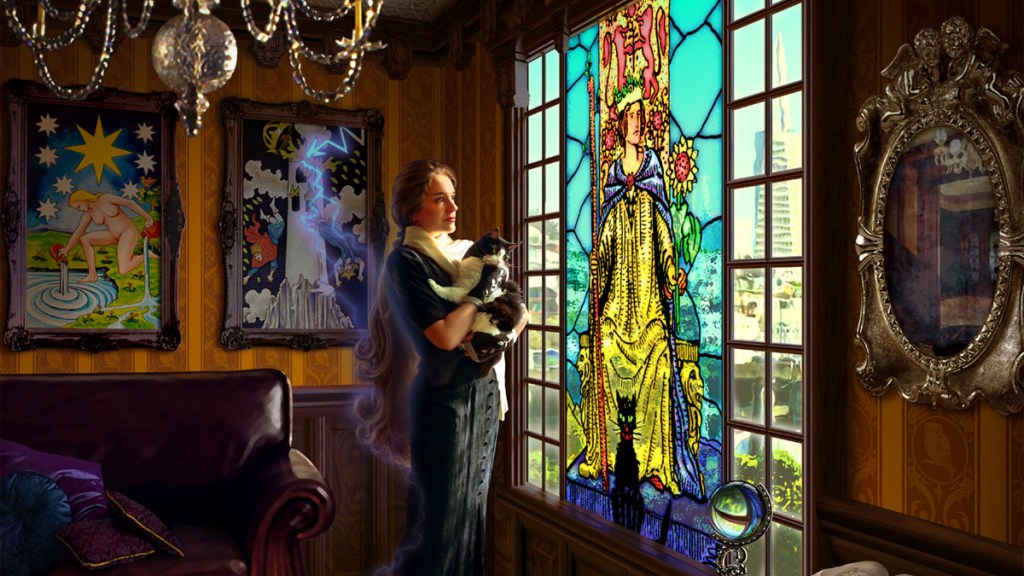 Witchkind, as presented in Shannon Page's Nightcraft Quartet, don't celebrate Christmas, but they do love a good Yuletide celebration. Page's witches and warlocks are separate from humans, long lived, and magical. Young witches train in the magical arts at a coven house, living there like a dorm; the adult women of the coven (always numbering thirteen) may be involved in scientific research (like protagonist Callie), medicine and healing, or reading Tarot, and they teach their specialties to the young witches. The coven house is a central place where women gather to live, to practice magic together, to celebrate, and to honor traditional rituals. While Callie's coven in San Francisco has their problems, the community there is caring and genuine, full of both youthful energy and centuries of experienced witchery. 
One of the perks of editing this series is that I get sneak peeks into parts of the story readers haven't seen yet—including Yule decorations. Rather than cutting down dead trees, witches coax living fir boughs to weave along the walls and mantles, accented with red ribbon and gold—coins, beads, chains. I can imagine the cozy San Francisco coven house filled with witches all rushing to perform their tasks to make the perfect celebration, some of them convincing the fir boughs to expand in just the right ways while others brew hot chocolate or prepare the feast. I picture them eating in the large hall, voices lifted in joyful chatter, and then making their way out to the grounds beyond the house to celebrate beneath the stars, singing midwinter songs and looking forward to the next year. After months of 2020 with smaller communities and less human contact, being surrounded by such a vibrant, magical group of women sounds like just the right way to end my year.
Rosie Fletcher would spend Christmas… with the Roy family from Succession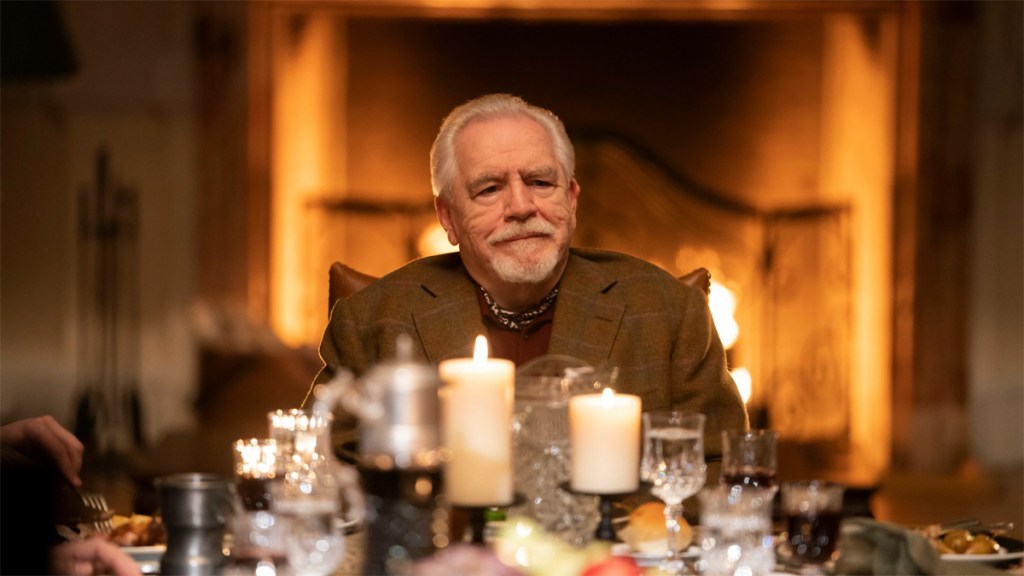 Go hard or go home, they say, so since I can't go home this year, I'm going round the Roys. That is, of course, the family at the centre of Succession, a show peopled by the very wealthiest and utterly worst. Festivities would be held at the home of patriarch Logan Roy. His children and their partners would be obliged to attend. Logan would hire a chef to cook, waiting staff to serve, some of whom he would abuse. I would give them sympathetic "I'm sorry" looks but do nothing, secretly thankful Logan's ire wasn't focused on me. 
In all likelihood I would be a figure like Greg (the egg), or Tom Wambsgans – mostly tolerated, vaguely despised and very much the second class citizens of the Roy clan, skulking on the periphery as Kendall, Roman and Shiv compete for Logan's love and oldest son Connor comes up will another entirely ridiculous life plan – I dunno, maybe this year he's decided that his next career move is to become Santa Claus. 
The food would be extraordinary. The booze the very finest – how long before, like Greg, I would be claiming the bottle of vintage rose champagne I had just motored through was 'not my favourite'? And the dinner table conversation would be electric. Electric like an electric shock – sharp, painful, disorientating, unexpected. 
So Christmas has become too commercialised? Fine, fuck it. I'll take the eye-wateringly expensive gift that's grudgingly bestowed on me, I will gorge on the finest cheeses known to man and coat my tongue with port made from molten rubies, knowing I am on my way to moral bankruptcy and doing it anyway. Go hard or go home…
Kirsten Howard would spend Christmas… singing along in the closing moments of Scrooged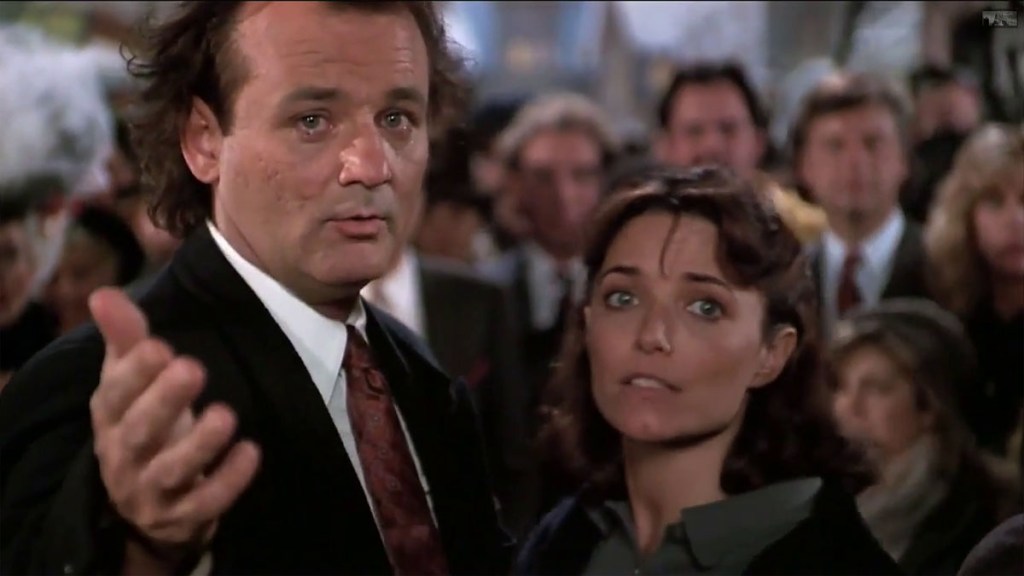 You'd be hard-pressed to find a Christmas movie that feels as genuinely uplifting during its climax as 1988's Scrooged. Bill Murray's arrogant TV boss Frank Cross, having been visited by the Ghosts of Christmases Past, Present and Future, disrupts a live broadcast of A Christmas Carol to rant openly and honestly at the cast and crew (and eventually you) as he makes a passionate case for a life less invested in exploitation and capitalism, and eventually kicks off a collective singalong of Annie Lennox and Al Green's version of 'Put a Little Love in Your Heart'.
That's where I'd like to be this Christmas. Not just to sing along with Bill, but to be around people immediately swept along by the much-less-explored altruistic route of 'no fucks given'. 
Also hanging out with Bill Murray, though, of course.
So much of the last few years has been a public race to the bottom of Nothing Matters Mountain, but even if it hadn't all been so demoralising and forced so many of us to reevaluate our priorities, Frank's message of redemption in love and living as well as we can, while shrugging off our own heavy expectations of success, still feels really special. 
This Christmas, there is light at the end of the tunnel. We may not be able to grab the nearest stranger and sing "put a little love in your heart!" at them right now, but we CAN carry that feeling with us into 2021. As Frank says: "There are people who are having trouble making their miracle happen". We can always try and find time to stop focusing on our own for a while and to help them.
David Crow would spend Christmas… chilling with Harold and Kumar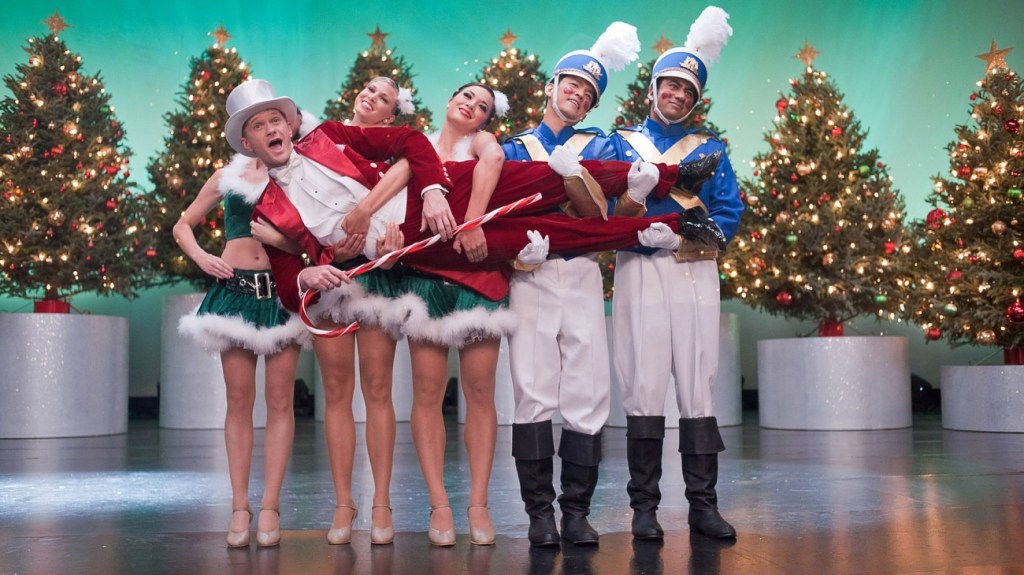 Not many people are aware of this, but A Very Harold and Kumar Christmas is the best Harold and Kumar. It may not have the pop culture cache of their medicinal-fueled quest for mini-cheeseburgers, but it does have something very special, indeed: Wafflebot. If you've had the misfortune of living your life oblivious to Wafflebot's existence, allow me to introduce you to a greater world of wonder and magic.
Wafflebot is the best Christmas present to ever come out of Santa's Workshop. Displaying an eerily sophisticated artificial intelligence for a toy meant only to cook delicious breakfasts, Wafflebot can make you waffles any time by just popping the top and letting that batter drop. But he can also do so much more! Vaguely aware of the concept of friendship, this brunching Frankenstein can learn how to love and appreciate his owners… and defend them from any threat with scalding hot projectile syrup!
With the ability to serve breakfast, save your life, be manipulated into dangerous attack mode, and learn how to see the real you, all while playing a mean drum solo, Wafflebot would make any Christmas a sweetly warm experience. And then Harold and Kumar, and I could also steal a Christmas tree from NPH or something.