The former US special forces soldier who helped inspire "taking a knee" to protest against racial injustice has criticised football fans in England for booing players who kneel in support of the anti-racism campaign.
Nate Boyer, who served as a Green Beret in Iraq and Afghanistan before making it as a player in the NFL, says the boos are disrespectful and a sign of the "hate and anger" in the world.
In 2016, Boyer criticised then NFL star Colin Kaepernick for protesting racial injustice by sitting during the pre-game national anthem.
Kaepernick asked to meet the veteran to discuss other ways to protest that would not offend members of the military.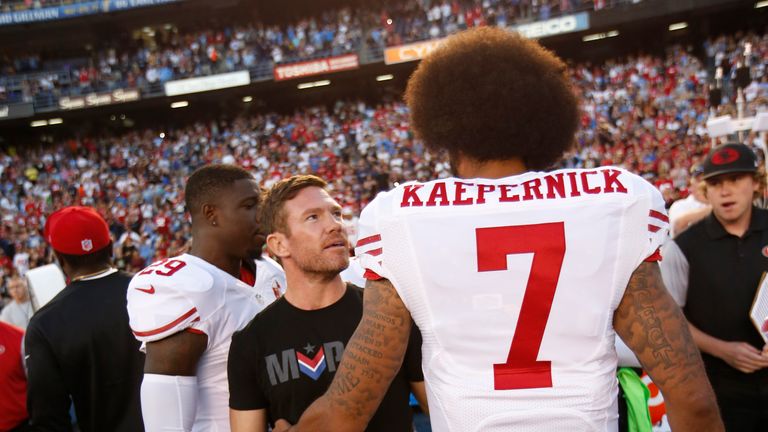 Hours after that meeting, the former San Francisco 49ers quarterback knelt for the first time during the playing of the anthem before a game. Boyer stood next to him.
The gesture became symbolic of the Black Lives Matter movement and has been re-energised following the killing of George Floyd under a police officer's knee in May.
Boyer clearly remembers the reaction when he stood alongside Kaepernick in 2016. He said: "The amount of boos I heard just drowned out the singing. I was shocked in that moment.
"I just felt uncomfortable and I can't imagine what Colin actually felt and what anyone who takes a knee feels because they know it is directed at them."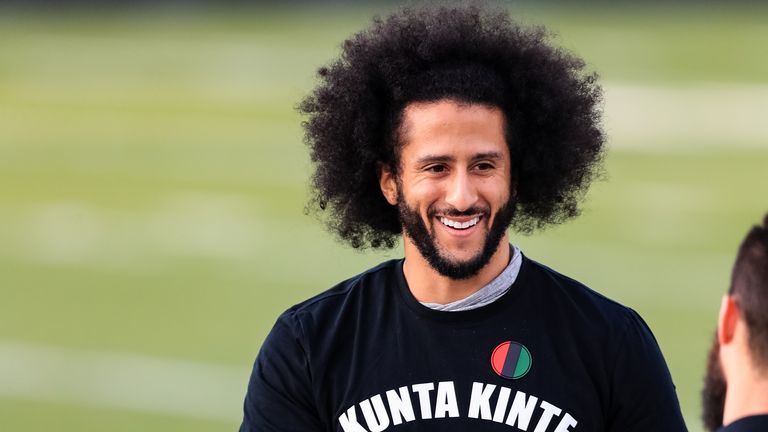 It informs what he feels about fans who boo when players take a knee to honour the Black Lives Matter campaign in England.
"It's not surprising, it's sad," he said. "Why can't you just respect somebody's opinion?
"How is that not more disrespectful to yell out a boo over what somebody else is doing when it is supposed to be a moment of silent reflection? There's just so much hate in the world and anger."
Boyer says the willingness to listen was a lesson from his meeting with Kaepernick.
He said: "I will never know what it is like to be a person of colour but someone who didn't serve in the military isn't going to know what it's like to fight for this country.
"It's very important that if you want people to listen, you've got to listen to them. We didn't have opposing opinions just opposing experiences."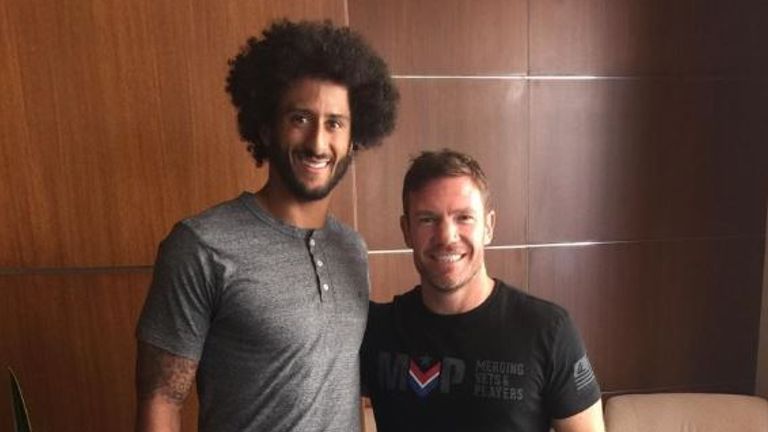 The protests around the world after George Floyd's death have intensified the focus.
"There was so much on the edge that was bubbling just under the surface and that broke ground and everything just released at once. There was so much frustration, people had just kind of had it," he added.
It put into context what happened in that meeting with Kaepernick in 2016.
"I've got nothing but respect for him as a human being. There are still things today that he does or says that I don't necessarily agree with but that's okay, you can still have love for your fellow man," he said.
"Even though he was an incredible player, almost won a Super Bowl, what he's a part of now, what he'll be remembered for, is not a single down on the football field, it is something much bigger.
"A lot of people opened their eyes and realised that things aren't just perfect and equal and easy for everybody in this country."