Harry and Meghan have demanded an agency hand over photos and videos taken by paparazzi during a "chase" in New York earlier this week – but it has refused.
Lawyers representing the Duke and Duchess of Sussex have sent a letter to the Backgrid agency – but in response, the company reportedly told Harry that he cannot issue commands "as perhaps Kings can do".
The couple said they were involved in a "near catastrophic" pursuit after an awards ceremony on Tuesday, but others said their account is overblown.
Harry & Meghan's 'car chase' route

Their letter reportedly states: "We hereby demand that Backgrid immediately provide us with copies of all photos, videos, and/or films taken last night by the freelance photographers after the couple left their event and over the next several hours."
The reason given is apparently so they can improve security in future.
But Backgrid's lawyer appeared to mock Harry and Meghan's request as they sent a robust letter in response.
TMZ quoted it as saying: "In America, as I'm sure you know, property belongs to the owner of it: Third parties cannot just demand it be given to them, as perhaps Kings can do.
"Perhaps you should sit down with your client and advise them that his English rules of royal prerogative to demand that the citizenry hand over their property to the Crown were rejected by this country long ago.
"We stand by our founding fathers."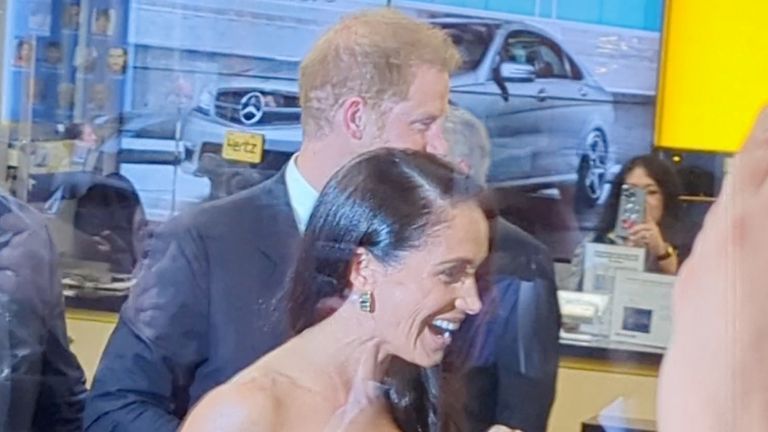 The agency previously said it did not condone harassment or illegal activity and that it was conducting a detailed investigation.
It comes after Harry and Meghan's press secretary told Sky News the couple were "incredibly scared and shaken up" by their experience and she had never seen them so vulnerable.
Their security claimed at least 15 lights were ignored by paparazzi driving "aggressively and badly" in cars and on bikes.
However, one of those involved said the royals' own driver was the one who made the situation dangerous.
Read more:
Timeline of Harry and Meghan's 'car chase'
Analysis: A hounded couple or a pair of hypocrites?
'Paparazzi chase': What have people said so far?
Harry and Meghan's taxi driver speaks out

A taxi driver who carried the couple on some of the journey also suggested their account was "exaggerated" and that he never felt in danger.
Two New York police officers played down the incident, describing it as "a bit chaotic" rather than "near catastrophic".
Prince Harry's mother, Princess Diana, died in a car crash after being chased by paparazzi in Paris in 1997.
The duke is also currently suing UK newspapers over claims of intrusion into his private life, including alleged phone hacking.
Buckingham Palace and Kensington Palace have not commented on the incident in New York.