Four people have been killed and two children injured in a shooting in Philadelphia. 
Two boys, aged two and 13, were in a stable condition on Monday, police commissioner Danielle Outlaw said.
The victims were all male – three aged from 20 to 59 and the fourth believed to be between 16 and 21.
The attack is understood to be random, with no connection immediately known between the victims and the gunman.
The shootings took place over several city blocks in the southwestern area of Kingsessing.
The suspect was arrested in an alley and found with a bulletproof vest, multiple magazines, an AR-type rifle, a handgun and a police scanner. He remains in custody.
A third gun that belonged to the main suspect was also recovered from the scene.
He was identified as a 40-year-old man. A second person was also taken into custody.
It is unknown whether this person was connected with the gunman, but police believe he returned fire.
"At this point all we know is that this person decided to leave their home and target individuals," Ms Outlaw said, talking about the main suspect.
Police were attending to victims when they heard more gunfire, the commissioner said, and dozens of shell casings were found.
"There are several scenes out here," she said.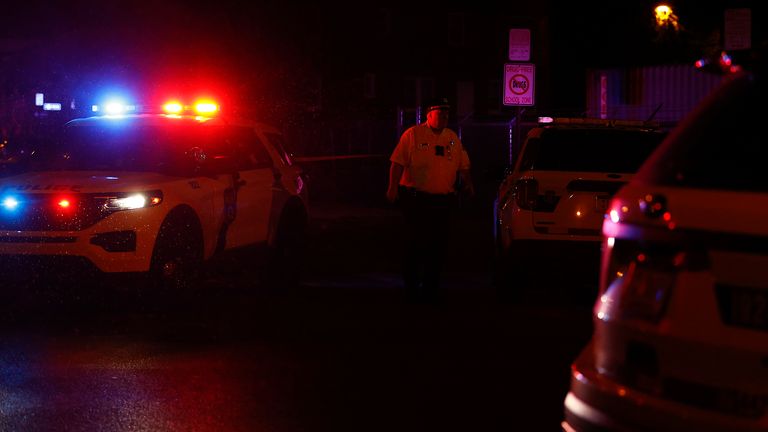 "We're canvassing the area to get as much as we can, to identify witnesses, to identify where cameras are located and to do everything to figure out the why."
The shooting is the 29th mass killing in the US in 2023, according to a database maintained by The Associated Press and USA Today in partnership with Northeastern University.
There have been more than 550 mass killing incidents since 2006 in which around 2,900 people have died and at least 2,000 have been injured.
Read more in US news:
Kevin Spacey trial: 'Slippery' actor behaved as if he 'thought he could groom me', court hears
Missing Texas teenager found alive more than eight years after disappearance
Robert De Niro's 'beloved' grandson Leandro dies aged 19
The US has seen the highest number of mass killings on record at this point in a single year.
Monday's shooting happened just one day after gunfire erupted at a party in Baltimore, about 100 miles southwest of Philadelphia, killing two people.
According to officials, 28 people between the ages of 13 and 32 were wounded in the shooting. More than half of the wounded were minors.
The US was preparing to celebrate Independence Day, which falls on Tuesday 4 July.