A cameraman was injured after he was hit in the head by a baseball during a match between the New York Yankees and Baltimore Orioles.
Pete Stendel of YES Network was struck by a hurried throw in the fifth inning.
Wednesday's game in New York was delayed for around 17 minutes as training staff and medical personnel tended to the cameraman.
Mr Stendel was then strapped to a stretcher and carted off the field.
As he was being taken away he raised and wagged two fingers to loud applause from the crowd of 36,000 people.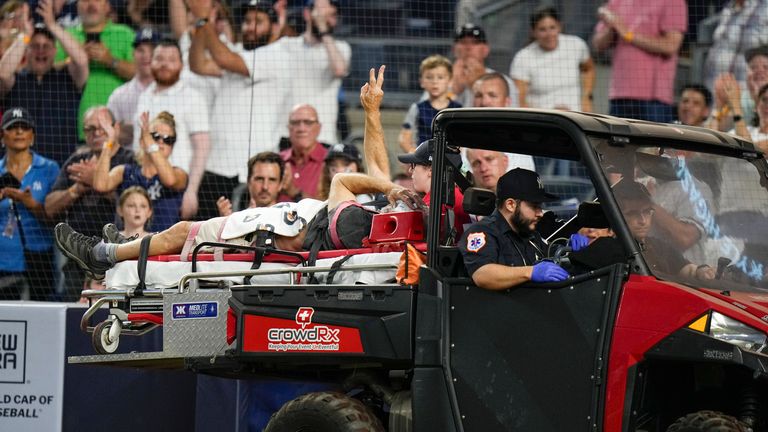 After the game YES said Mr Stendel was conscious and undergoing tests in hospital.
"Sending YES Network camera operator Pete Stendel all the best and wish him a speedy recovery," the Baltimore Orioles tweeted.
"Every time that a ball goes over the first baseman or even a foul ball from the hitter, you don't want to see it going towards a fan," Baltimore Orioles rookie shortstop Gunnar Henderson, who threw the ball, said after the game which his side won 3-6.
"It just happened to be in the wrong spot, and I hope he's doing all right.
"My prayers go out to him. I'm just thankful for the guys that rushed over there to him to help him."
Read more:
British number one speaks out after protesters halt Wimbledon play
Degenerative brain disease CTE found in female athlete for first time
Baltimore manager Brandon Hyde added: "That was a scary moment. He gave the peace sign coming off the field, but that was tough to watch and hopefully he's okay."
Yankees manager Aaron Boone said: "It was good to see him obviously coherent and obviously raising his hand going off. But I saw it pretty well right away, and it was very scary.
"I didn't see how he fell back, but I knew what could've been possible falling back, on top of the impact from the velocity of the ball hitting him… Obviously a difficult scene there, and just hoping he's okay."