The UK is planning new powers to sanction Iran after at least 15 "credible threats" to kill or kidnap people in Britain who are deemed as a threat by the regime, the foreign secretary has announced.
James Cleverly told Sky News the proposed sanctions regime would give "us the tools to take further action in future if Iranian behaviour doesn't change".
It could also be used in response to other malign activities by Tehran, such as the supply of weapons and ammunition to Russia for its war in Ukraine.
Asked how worried he was that it was only a matter of time before Iran succeeded in murdering a dissident on British soil, the foreign secretary said: "What we have seen is Iran try to stifle dissenting voices, trying to silence criticism.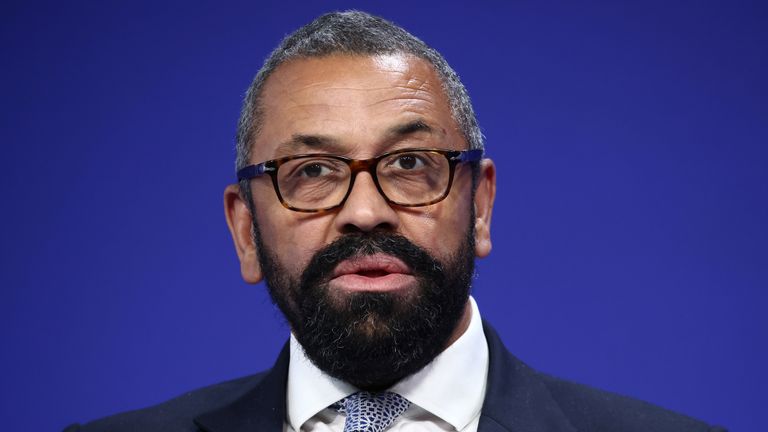 "In the UK we value freedom of speech, we value press freedom and we are willing to defend those things. We will stay ever vigilant."
He continued: "The Home Office and the security minister and our security services have done a fantastic job keeping people safe here in the UK and we support them with the work that we do internationally. And we are also putting these sanctions in place to deter and disrupt those acts of aggression against us."
Mr Cleverly gave an interview to coincide with an announcement to parliament on Thursday on the new sanctions regime.
"The Iranian regime is oppressing its own people, exporting bloodshed in Ukraine and the Middle East, and threatening to kill and kidnap on UK soil," he said in a statement released by the Foreign, Commonwealth and Development Office.
Iran 'has sold Russia ammunition'

"Today the UK has sent a clear message to the regime – we will not tolerate this malign behaviour and we will hold you to account.
"Our new sanctions regime will help to ensure there can be no hiding place for those who seek to do us harm."
UK responded to more than 15 'credible threats'
The foreign office said that the UK has responded to more than 15 "credible threats" since the start of 2022 to murder or capture British or UK-based individuals who Iran sees as a threat.
It said that the Iranian regime has publicly called for the killing or capture of these people and in some cases detained and harassed their families in Iran.
Read more:
UK takes Iran to court over Ukrainian passenger jet shot down in 2020
Iran 'spreading bloodshed and destruction' around the world
The Iranian intelligence services have developed close relationships with organised criminal gangs in UK and across Europe to expand the capability of its networks.
The planned sanctions regime, which will require new legislation, is designed to expand the criteria under which officials and organisations in Iran can be sanctioned, including hostile activities towards the UK and the spread of weapons.
The announcement came as the UK took over the monthly, rotating presidency of the United Nations Security Council. It is using this role to highlight concerns about Iranian activities, including military support to Russia in Ukraine.