More than 1,000 people have crossed the English Channel in small boats in just two days, with Friday seeing the highest number of crossings in a single day so far this year.
According to the latest Home Office figures, 686 migrants were found crossing the Channel on 13 boats on Friday – the highest number in a single day so far this year – and 384 migrants made the crossing on Saturday.
That means that on Friday and Saturday, 1,070 people were detected making the crossing, and the total number of people crossing so far this year stands at 12,503 on 277 boats.
Politics latest: BBC star claims 'deeply concerning'
The figures show that fewer people have crossed the Channel in a small boat this year compared with last – but only just.
The first half of 2022 saw 12,747 people make the crossings compared with 12,503 for the same period in 2023.
The figures come after a government minister repeatedly refused to endorse an order given by the Home Office for murals of cartoon characters on the walls of an asylum centre for unaccompanied children to be painted over.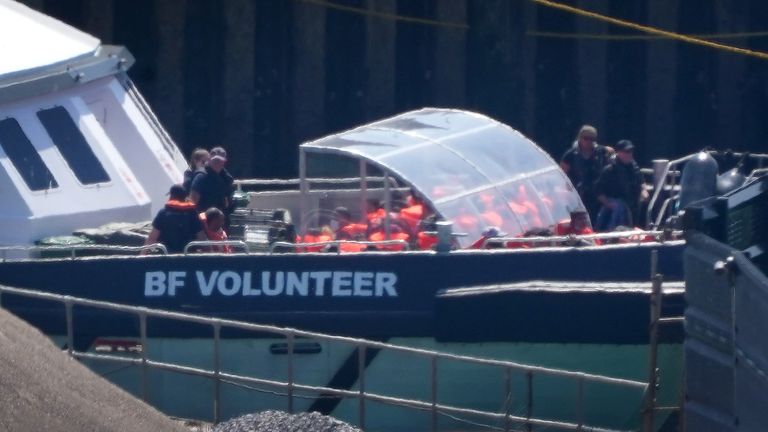 It emerged earlier this week that immigration minister Robert Jenrick ordered the removal of the murals at the centre in Kent in April, which depicted characters such as Baloo from The Jungle Book and Mickey Mouse, because they were thought to be too welcoming, the i newspaper reported.
The paper said staff were "horrified" by the "cruel order" and were resisting carrying out the work, but the Home Office confirmed to Sky News the murals were removed on Tuesday.
On Sky's Sophy Ridge On Sunday, Victoria Atkins, financial secretary to the Treasury, was asked if she was comfortable with the decision, and she repeatedly deflected the question.
She told Sky News: "Well I think we've got to focus on the fundamentals here – if there are children arriving in the United Kingdom via small boats, then as soon as they land in the UK, they are looked after properly."
Ms Atkins said their health and schooling needs are looked after, but added: "We also have to stop people from being enticed by criminal gangs to cross the Channel."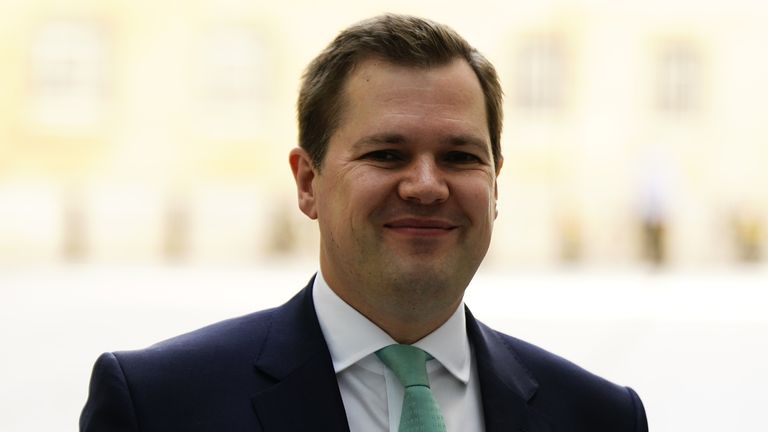 She said the number of crossings overall was down and that there had been a 90% decrease in the number of Albanians crossing the Channel since a returns agreement was struck.
Ms Atkins also said French authorities had stopped 33,000 people making the crossing as a result of various agreements with the UK.
She added: "It is an incredibly difficult problem, and I don't think anyone pretends that when the prime minister set this priority [to "stop the boats"], he or anyone else was saying it was going to be easy – it is not."
Challenged again multiple times on the children's mural being painted over, Ms Atkins repeatedly deflected and refused to say she was comfortable with the action – and nor did she endorse it.
Her priority, she said, is how the children are looked after here in the UK.
Jenrick defends migration figures

On Thursday, ministers filed an appeal against a Court of Appeal decision that ruled the government's plan to deport asylum seekers to Rwanda was unlawful.
Labour's shadow immigration minister Stephen Kinnock sharply condemned the government, telling the i: "The idea that painting over murals and removing entertainment for unaccompanied children in immigration centres will somehow stop the boats is utterly absurd.
"This is a sign of a chaotic government in crisis, whose failing approach means all they have left is tough talk and cruel and callous policies."
Read more:
£377,000 council grant to provide asylum seekers 'English-speaking lessons'
Rwanda deportation ruling to be appealed by government at Supreme Court
When asked about the murals earlier this week, a Home Office spokesperson said: "We do all we can to ensure children are safe, secure and supported as we urgently seek placements with a local authority.
"All children receive a welfare interview on their arrival at accommodation, which includes questions designed to identify potential indicators of trafficking or safeguarding issues.
"Our priority is to stop the boats and disrupt the people smugglers.
"The government has gone further by introducing legislation which will ensure that those people arriving in the UK illegally are detained and promptly removed to their country of origin or a safe third country."
The Home Office pointed to other features at the facility, which opened in November 2022, such as larger and softer interview rooms, an outside space, prayer rooms, a larger reception area and improved security measures.