Rishi Sunak will call on the UK's NATO allies to commit to spending a minimum of 2% of their GDP on defence as he attends an alliance summit in Lithuania.
The prime minister will argue the commitment will be crucial to NATO's ability to deter and defend against the kind of tactics Russian President Vladimir Putin has used during his invasion of Ukraine.
He will argue the 2% commitment "must be a floor not a ceiling", Number 10 said, and ask allies to channel their efforts into ensuring the alliance's armed forces can respond more rapidly and their defence industries are prepared to dramatically scale-up production in times of crisis.
Ukraine war latest: Erdogan agrees to support Sweden bid to join NATO
Last year, only nine of 30 NATO allies spent at least 2% of their GDP on defence – something the UK has done every year since the aspiration was set out nearly two decades ago.
"When thousands of Russian troops crossed the border in February last year, it marked a grim new chapter in Europe and NATO's history," Mr Sunak said.
"In the 500 days that have elapsed since we have witnessed the most terrible crimes and human tragedies in Ukraine. But we have also seen the NATO alliance come together like never before in support of Ukraine and with firm determination that Russia cannot succeed.
"That is work we need to continue this week. We cannot let the fog of war obscure the clear lessons our alliance must learn if we are going to outpace and outmanoeuvre those who seek to do us harm.
"That is why the UK is investing record amounts in defence, to make our armed forces more lethal and more deployable, and to ready our defence industry ready for the challenges ahead. And that's something we need to see across NATO – starting with meeting the 2% commitment."
Read more:
US cluster bombs deal is clear signal that war is not going well for Ukraine
Sunak 'discourages' use of cluster bombs
It is understood Mr Sunak has five key priorities going into the summit, which are:
• To reinforce NATO's approach to deterrence and defence
• To call on NATO allies to commit to spending a minimum of 2% of GDP
• To continue to support Ukraine and agree a form of wording about Kyiv's future accession to the alliance
• To continue working towards Sweden becoming a full NATO member
• To strengthen the relationship between NATO and its key Asia-Pacific partners
NATO head on Ukraine's accession

On Monday, the prime minister met Joe Biden in Downing Street, where the US president praised the closeness of the two countries.
Mr Biden said he "couldn't be meeting with a closer friend and a greater ally", while Mr Sunak celebrated the US and UK as "two of the firmest allies" in NATO.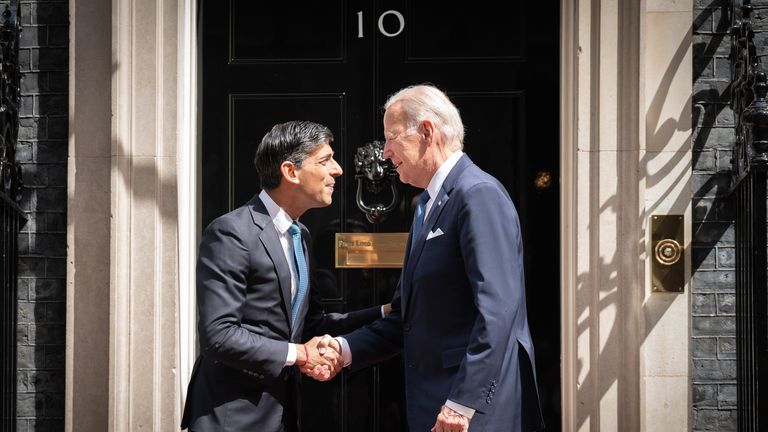 The meeting came amid reports of disagreements regarding Ukraine's ambitions for NATO membership and the US decision to provide Kyiv with cluster munitions – a move the UK does not support because it is signed up to an international convention to ban the weapons.