The biggest test of Bernard Looney's legacy at BP will be how much of his strategy survives his shock departure.
That plan was one of the most dramatic ever unveiled by the chief executive of a British company.
None of the so-called supermajors – BP, Exxon, Shell, Total, Chevron, ConocoPhillips and Eni – had, when in February 2020 Mr Looney gave a first flavour of what he was planning, ever stated publicly that they expected their oil and gas production to fall over time.
Months later, with the world now in the grip of the pandemic, Mr Looney fleshed out those plans with more detail and came up with something even more surprising. He said that BP did not expect to extract all of the oil and gas sitting in its reserves – stating effectively, in the slogan beloved of climate activists, the company would be leaving some of it "in the ground".
This, along with a pledge to make BP net zero by the middle of the century, was truly revolutionary stuff.
What shone through, in this period, was Mr Looney's determination to drive through an agenda more radical than that of anything attempted by BP's peers. It was informed by a conviction that the pandemic would accelerate the transition away from fossil fuels to non-carbon energy sources.
That agenda, though, presented an immense challenge.
Essentially, the task Mr Looney set BP was to step up investment in alternatives to fossil fuels while, at the same time, continuing to maximise profits from the company's traditional activities to keep shareholders onside and also to pay for that investment.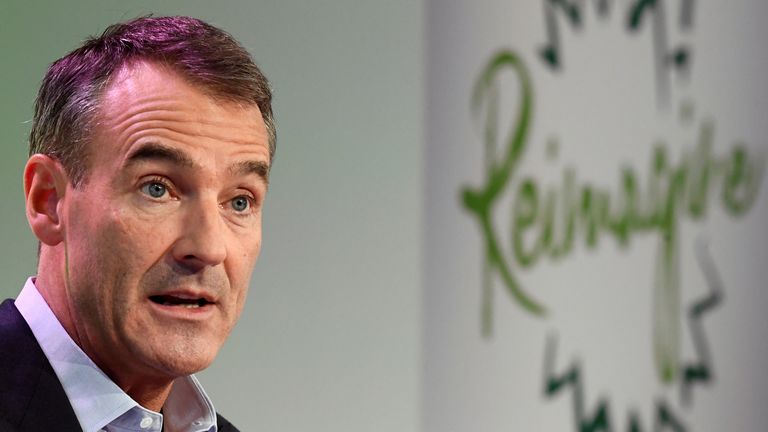 A year into the job, Mr Looney was still stressing the importance of sticking to that agenda, but by then it was already clear he had not convinced all of BP's investors that the new activities into which he was taking the company would be as profitable as the ones that had served it so well over the previous 111 years.
Scepticism over BP's ability to generate the same returns in future that it had from its fossil fuel activities saw BP's share price underperform those of its peers and, in particular, US supermajors like Exxon which remained explicitly wedded to fossil fuels.
That scepticism only intensified when, for example, BP was deemed to have overpaid in an auction for licences to build offshore windfarms in the Irish Sea.
Very gradually, Mr Looney was forced to tone down some of the radical aspects of his strategy.
By late 2021, at the time of the COP26 climate summit in Glasgow, he was having to reiterate the company's credentials in oil and gas production, reminding investors that, while BP was investing heavily in the energy transition, it was still investing in oil and gas production as well.
It led to his unfortunate – and oft-repeated – claim that, with crude prices at elevated levels even before Russia invaded Ukraine, that BP was a "cash machine."
July: Labour to target larger windfall taxes

Never more was that trimming of BP's ambitions on the energy transition more deeply underlined than when, earlier this year, Mr Looney scaled back a plan to cut BP's hydrocarbon production by 2030 by 40% of its 2019 levels to just 25%.
Climate campaigners – for whom BP could never move quickly enough – said this proved the company was not sincere.
But the move was also borne of pragmatism because, by then, the company had been forced to offload its 20% stake in the Russian oil and gas producer Rosneft in response to the war in Ukraine.
The loss of that hugely cash generative asset not only made BP one of the world's biggest corporate casualties from Vladmir Putin's warmongering. It also deprived the company of vital cashflow that could be directed to both shareholders and invested in the transition.
The big question now is where BP goes from here and whether Mr Looney's successor will stick with his ambitions. A change of emphasis has certainly been discernible over at the company's old rival Shell.
It too has just seen a changing of chief executive and the new man, Wael Sawan, has been notably less enthusiastic in discussing the transition than was his predecessor Ben van Beurden.
Finding Mr Looney's successor will not be easy. At 53, he had many years ahead of him.
One possible candidate, though, could be Charles Woodburn, the chief executive of BAE Systems.
It is not overstating things to say that he has done a brilliant job at the defence giant – which has already made him a target for other FTSE 100 companies.
The mining giant Rio Tinto, for example, is said to have tried to poach him last year. Mr Woodburn rejected those overtures but, having begun his career in the oil and gas industry, he may find an approach from BP harder to resist.
Another name to look out for could be Tufan Erganbilgic, a former BP executive, now running the aircraft engine maker Rolls-Royce.
Either of those names would go down well with BP shareholders, as would Brian Gilvary, BP's former chief financial officer, who left the company in June 2020. But Dr Gilvary, one of the key figures in saving BP from collapse following the Macondo disaster in the Gulf of Mexico in 2020, appears to be having too much fun in his post-BP career, having garnered a number of senior roles, including one at Ineos, Sir Jim Ratcliffe's petrochemicals empire.
Either way, Mr Looney's departure means a link with BP's storied past is about to be severed.
Mr Looney was the last of the elite cadre of executives – nicknamed 'turtles' after the Teenage Mutant Ninja Turtles – whose careers were nurtured by BP's visionary former chief executive, John Browne.
Two other 'turtles', Tony Hayward and Bob Dudley, went on to become BP's chief executive but Mr Looney was the last of the line.
It is deeply ironic that Mr Looney, like his mentor Lord Browne, has had to depart BP, his work half-done, due to his personal life. It is also tragic for both him and for the company he loved.