The northern section of the HS2 high speed rail line looks set to be scrapped by Rishi Sunak, Sky News understands.
It comes as a number of Sunday newspapers reported that any decision would be announced before next weekend's Conservative Party conference.
Sky News political correspondent Tamara Cohen said: "The widespread view in Westminster is that the prime minister is set to scrap the northern leg of the High Speed 2 rail line – the bit that was due to go between Birmingham and Manchester – because of concern about the cost.
Read more:
HS2 explained: What is it and why are parts being delayed?
Why are so many people upset with HS2 rail project?
"We've had several reports that the crunch meeting between the prime minister and chancellor to make the final decision could happen as soon as next week and be announced to Conservative MPs.
"This would be a big U-turn if it goes ahead."
On Saturday two former premiers warned Mr Sunak about "delivering a mutilated HS2".
Boris Johnson said suggestions the Birmingham to Manchester route could be chopped over cost concerns were "desperate" and "Treasury-driven nonsense".
And David Cameron has also privately raised significant concerns about the prospect that the high-speed rail line could be heavily altered, according to The Times.
An ally quoted by the newspaper said it was "unusual" for the former prime minister, who resigned after the Brexit referendum result in 2016, to intervene in politics but felt HS2 was "different".
Ministers have looked to sidestep questions about the future of the Manchester destination this week and Chancellor Jeremy Hunt said on Thursday that HS2's budget was "getting totally out of control".
Cleverly questioned over HS2

Mr Sunak has refused to guarantee it will reach Manchester despite £2.3bn having already been ploughed into stage two of the national line.
Cohen said recent comments from Jeremy Hunt in a radio interview showed the chancellor was concerned with costs spiralling.
"It's being reported the costs may be overrunning by at least £8bn on the section from London to Birmingham alone since last year – although the government has not commented on those figures."
The planned railway – announced by the last Labour government but backed by successive Tory administrations – is intended to link London, the Midlands and the North of England but has been plagued by delays and rising costs.
A budget of £55.7bn for the whole of HS2 was set in 2015 but some reports suggest the bill has surpassed £100bn, having been driven up by recent inflation.
Ministers have already moved to pause parts of the project and even axed sections in the north.
The eastern leg between Birmingham and Leeds was reduced to a spur line which is due to end in the East Midlands.
It was confirmed in March that construction between Birmingham and Crewe would be delayed by two years and that services may not enter central London until the 2040s.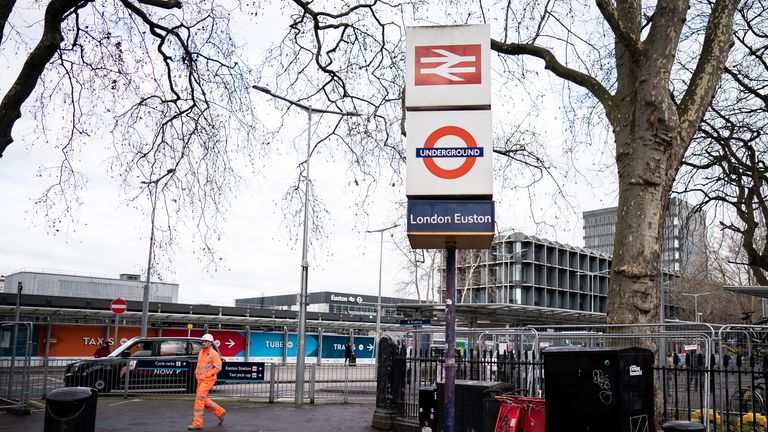 Transport Secretary Mark Harper announced that work at Euston would be paused for two years as costs were forecast to almost double to £4.8bn.
A government spokesman said: "The HS2 project is already well underway with spades in the ground, and our focus remains on delivering it."