"Many people" pretend to be gay to claim asylum in the UK, Suella Braverman has claimed, as she defended herself from criticism from Sir Elton John.
The home secretary yesterday delivered a controversial speech in which she claimed the asylum system will break if people are given sanctuary for "simply being gay, or a woman, and fearful of discrimination in your country of origin".
Her words were criticised by Sir Elton John and the Labour MPs Ben Bradshaw and Sir Chris Bryant, who are both gay.
Speaking to ITV News today, Ms Braverman said that "some people do game the system".
Politics latest: Rishi Sunak says we 'still need oil and gas'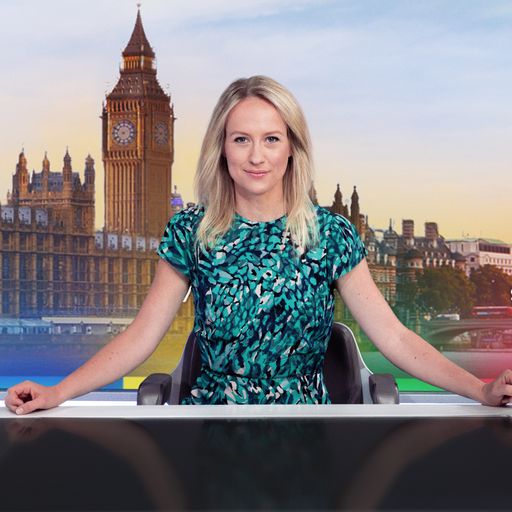 Politics Hub with Sophy Ridge
Sky News Monday to Thursday at 7pm.
Watch live on Sky channel 501, Freeview 233, Virgin 602, the Sky News website and app or YouTube.
She said: "They come to the UK, they purport to be homosexual in the effort to game our system, in the effort to get special treatment.
"That's not fair, and it's not right.
"I'm afraid we do see many instances where people purport to be gay when they're not actually gay. But in order to get special treatment, it's not the way our asylum system should work."
In a statement released through the Elton John Aids Foundation, the singer and his husband David Furnish said: "We are very concerned about the UK home secretary's comments stating how discrimination for being gay or a woman should not be reason enough to qualify for protection under international refugee laws.
"Nearly a third of all nations class LGBTQ+ people as criminals, and homosexuality is still punishable by death in 11 countries.
"Dismissing the very real danger LGBTQ+ communities face risks further legitimising hate and violence against them.
"Leaders need to provide more compassion, support and acceptance for those seeking a safer future."
Read more:
Elton John and UN criticise Braverman speech
Braverman condemned by LGBT asylum seekers
She has leadership ambitions but rhetoric risks backfiring
Responding, Ms Braverman said: "Well, I have huge admiration for Elton John, but what I would say is that we need to be, again honest about what's actually happening on the ground.
"And as I said in my speech, we need to be clear about what constitutes persecution – persecution is where people are being tortured, where they are receiving ill-treatment, where they are having their human rights violated in a monstrous and grotesque way."
She added that "we want to welcome people fleeing persecution to the UK".
"That's not the same as discrimination, and I fully acknowledge that it is miserable and incredibly tough around parts of the world to be gay or to be a woman – being a victim of discrimination shouldn't necessarily qualify you for asylum protection in the UK."
Sky News has asked the Home Office for more details about Ms Braverman's claim.
Sir Chris said: "How many? Where's your evidence? And how dare you scurry behind the apron strings of prejudice to hide the fact that you've manifestly failed to deal with the asylum mess you and your party created."
There had been suggestions Ms Braverman was using the trip – taking place less than a week before the Conservative Party conference – to raise her profile as a potential successor to Rishi Sunak. She unsuccessfully ran to lead the party after Boris Johnson resigned.
It is not the first time Ms Braverman has delivered a speech which might be more at home in a leadership race. The speech in the US was signed off in the usual way, according to Downing Street.
Should Mr Sunak lose the next general election, it is likely he will be challenged for leadership of the party.
Asked by the PA news agency if her speech on Tuesday was made with leadership ambitions in mind, the home secretary said: "With respect, that is a slightly flippant interpretation of what is a very serious issue."
She was asked about her leadership ambitions yesterday by Sky's Mark Stone, saying: "I'm incredibly honoured to be here at the [American Enterprise Institute].
"The AEI represents the forefront of thought leadership and policymaking in the US and actually internationally, and to be hosted here to talk about migration in the international context, followed by meetings with my American counterparts is really again, part of my day job part of my duty as home secretary, I want to lead this conversation globally.
"And I want to work with like-minded partners to find a solution."
Braverman uses 'unprecedented' language

Ms Braverman also rejected claims she was lacking compassion following her speech, saying today: "No, I don't think that is true.
"And what I would say is that we are facing unprecedented levels of illegal migration, not just in the UK but also in countries like the US and other Western or European nations.
"It's right that we ask for greater collaboration at the international level among like-minded partners and, ultimately, the UK cannot sustain such levels of illegal migration, or indeed, legal migration."
Click to subscribe to the Sky News Daily wherever you get your podcasts
And when it was put to her that reforming the UN Refugee Convention is an unrealistic goal, she said: "I am inviting my international partners to engage in an exercise of review and reform.
"Ultimately, I think it's legitimate to ask these questions whether the definition of refugee in the international conventions is still fit for purpose, whether the definition of persecution has been stretched beyond a reasonable limit, and that's in face of these high numbers that we are now seeing."