Scottish Labour has won the Rutherglen and Hamilton West by-election.
Michael Shanks replaces shamed MP Margaret Ferrier, who was ousted from her seat in August following a successful recall petition for breaching COVID restrictions during lockdown in 2020.
Voters took to the polls between 7am and 10pm on Thursday and out of the 82,104 electorate, a total of 30,531 votes were cast (37.19% turnout).
The turnout is down from 66.48% at the snap 2019 general election, when 53,794 valid votes were cast.
Mr Shanks defeated the SNP's Katy Loudon by 17,845 votes to 8,399 – a majority of 9,446.
Speaking to Sky News after his win, Mr Shanks said: "There's absolutely no doubt that this result shows that there's no part of the United Kingdom that Labour can't win.
"It's been a long time in Scotland – Labour building back to a place where people can trust us again.
"The leadership of Keir Starmer and Anas Sarwar has got us to a place where people have put their trust in us.
"I'm incredibly honoured by the trust people have put in me in this by-election."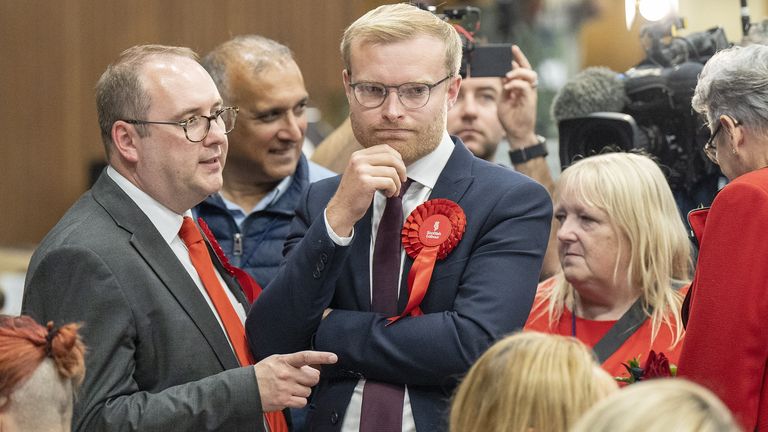 Ms Ferrier, who won the seat for the SNP in 2019, was forced to sit as an independent after losing the party whip when her COVID breach came to light.
Fourteen candidates battled it out for the hotly contested seat.
The Scottish Conservatives backed Glasgow councillor Thomas Kerr, student Cameron Eadie stood for the Scottish Greens, while data analyst Gloria Adebo ran for the Scottish Liberal Democrats.
All eyes were on the SNP and Scottish Labour – with both parties treating the by-election as an important battleground ahead of the next UK general election.
During the campaign, Labour stated a win in Rutherglen and Hamilton West could help springboard the party to Number 10.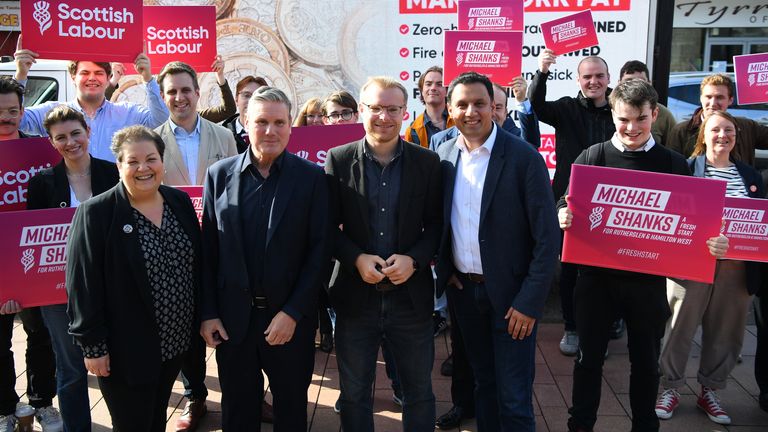 Sir Keir Starmer's party is now hopeful that Scottish Labour will make gains against the SNP at the next general election, which could potentially pave the way for Labour's return to power at Westminster.
Following the result, Sir Keir said: "This is a seismic result. People in Rutherglen and Hamilton West have sent a clear message – it is time for change. And it is clear they believe that this changed Labour Party can deliver it.
"I have always said that winning back the trust of people in Scotland is essential."
Sir Keir said the victory was the culmination of "three and a half years of hard work".
He added: "I am grateful to everyone who has put their faith in us today – we will work every day to repay it.
"Voters across Scotland and across Britain want a government determined to deliver for working people, with a proper plan to rebuild our country.
"They want to move on from two SNP and Tory governments that offer only more division, more chaos and more infighting.
"The country deserves a government firmly on their side and focused on their priorities – and Labour will deliver that for them."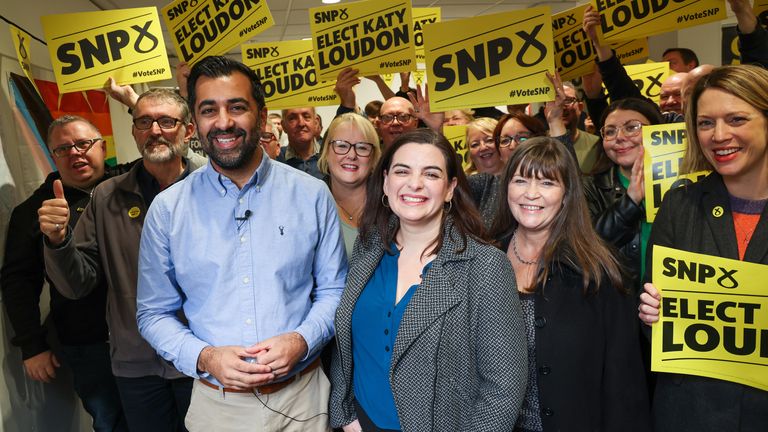 Responding to the loss, SNP leader and First Minister Humza Yousaf said it was a "disappointing night" for his party.
He added: "I want to thank our exceptional candidate Katy Loudon and our activists for their incredible efforts.
"Let me also congratulate Michael Shanks on being elected. Circumstances of this by-election were always very difficult for us.
"Collapse in the Tory vote, which went straight to Labour, also a significant factor.
"We lost this seat in 2017, and like 2019 we can win this seat back.
"However, we will reflect on what we have to do to regain the trust of the people of Rutherglen and Hamilton West."
Full results:
• Gloria Adebo (Scottish Liberal Democrats) – 895 votes
• Bill Bonnar (Scottish Socialist Party) – 271 votes
• Garry Cooke (Independent) – 6 votes
• Andrew Daly (Independent) – 81 votes
• Cameron Eadie (Scottish Green Party) – 601 votes
• Prince Ankit Love (Independent) – 34 votes
• Niall Fraser (Scottish Family Party) – 319 votes
• Ewan Hoyle (Volt UK) – 46 votes
• Thomas Kerr (Scottish Conservatives) – 1,192 votes
• Katy Loudon (SNP) – 8,399 votes
• Christopher Sermanni (Scottish Trade Unionist and Socialist Coalition) – 178 votes
• Michael Shanks (Scottish Labour Party) – 17,845 votes
• David Stark (Reform UK) – 403 votes
• Colette Walker (Independence for Scotland Party) – 207 votes