Labour rallies in Scotland have been far from headline news for a very long time. 
Their political sparkle fizzled out in the wake of the independence referendum in 2014 as an electoral punishment for teaming up with the Conservatives in a bitterly bruising campaign.
Opponents have repeatedly poked fun at Labour's failures at the polls, with a once mighty party severely diminished and struggling to be relevant.
Politics latest: 'We're the party of change', Starmer says
'We are the party of change'

The SNP has been the dominant force for so long. They have been the movement with momentum, the high-energy figures rallying their troops, the only party to have won every election in many years.
But today's Labour victory lap in the wake of the Rutherglen and Hamilton West by-election had a hint of what the nationalists have enjoyed – attention.
The smile could not be wiped off Sir Keir Starmer's face at the rally in a small car park as he contemplates how his path to power requires Scotland getting on board.
Scottish leader Anas Sarwar has repeatedly been accused by his opponents of being a "branch office" taking orders from his London masters. Those very bosses will no doubt now be looking at funnelling considerable campaign cash north of the border to secure seats next year.
Testing the mood of the nation is a tricky move in a polarised country still paralysed by debates over its future. Every policy move and political conversation is seen through the prism of the independence referendum.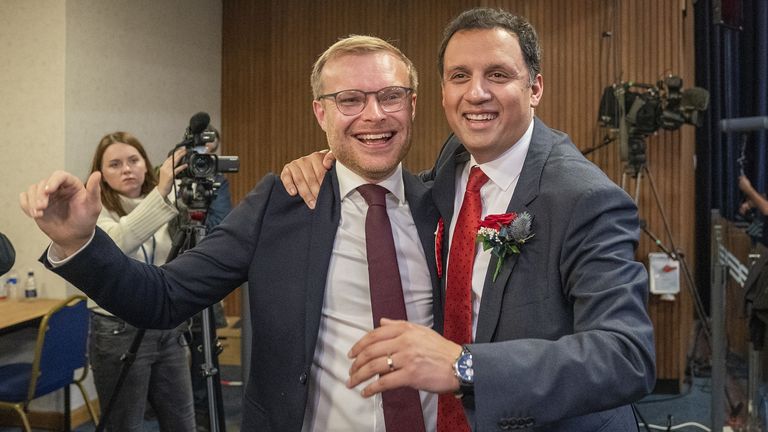 'I was very torn'
At a soft play in nearby Cambuslang, voters were digesting a Labour victory.
Mum Jenny Koca held her daughter as she talked about voting for the SNP but swaying towards Labour.
She said: "I did vote SNP – I was very, very torn. It's hard to put a positive spin on the result and it's easy to see why people are looking elsewhere just now."
Another mother is a Conservative voter who believes the SNP's defeat in this area was to be expected.
Hazel said: "The mistakes Labour made the last time they were in power put me off, but everyone deserves a second chance."
First minister promises to reflect and reset
First Minister Humza Yousaf has promised to reflect and reset after the Rutherglen race. But what does that look like – and how will it be measured?
There are some senior nationalist figures who fear a disaster looming in the 2026 Scottish elections.
Westminster boss Stephen Flynn says his party cannot carry on as "business as usual". Many will see this as a dig at the wider leadership strategy and direction of the SNP.
Less than 12 months ago, then first minister Nicola Sturgeon had promised a second indyref in October 2023 – this month – an unthinkable concept in the current climate.
The chaos of this by-election reveals yet again how volatile politics is.