When Labour last met in Liverpool for its annual conference, Liz Truss had just delivered her mini-Budget, sterling had fallen to a 37-year low and the markets were about to be plunged into turmoil.
With her government imploding and weeks after the Johnson collapse, Labour were on a high.
Sir Keir Starmer had clocked up a 17-point lead over the Tories – Labour's best poll performance against its adversaries for two years. It was the conference where we saw hope give way to belief – from the top of the party to the bottom – that Labour was going to win the next general election.
A year on, and Sir Keir will arrive back in Liverpool with a growing body of the evidence to back it up.
He's riding in on a high, smashing through the SNP in Scotland with a whopping win in the Rutherglen & Hamilton by-election. It's the sort of result that doesn't just put Sir Keir a nose ahead, it puts him in outright majority territory.
I know it's only one by-election and extrapolating it out has to be treated with caution, but the 20-point swing to Labour smashed internal expectations and, if replicated across Scotland, would garner Labour 40-plus seats.
There is no route to Number 10 for Sir Keir that doesn't go through Scotland; not since 1955 has the Labour Party formed a government with fewer than 40 seats north of the border
"It was beyond what we hoped for," one delighted senior Labour figure told me after the Rutherglen result.
"We have to build on it. We are the change."
By-election win 'not a protest vote' – Starmer

Change: the simple reason Mr Sunak is trying to position himself as a change candidate despite leading a party in power for 13 years. He has no option, however much of a stretch it may seem.
Both parties' polling shows that voters overwhelmingly want things to change.
What they are yet to be convinced of is that the change has to be a Labour government. Sir Keir's task in Liverpool this week then is to answer the question: "If not them, why us?"
"Sunak may have had 'long-term decisions' written up on the wall for his speech, but he didn't have any long-term decisions in the speech," says one senior Labour figure. "There was nothing on the economy, no plan for growth, nothing on tackling the cost of living."
Fleshing out the five missions
What Sunak does have though, are five pledges plastered over everything he's done for the past 10 months, which is far more than Sir Keir has got.
At the beginning of the year, the Labour leader set out five missions for government.
I know what the missions are because it's my job to go to his press conferences and read his speeches; analyse and explain to you what he's doing and why – but I suspect most of you haven't a clue.
Growth for higher living standards; clean energy super power; NHS fit for the future; safer streets; breaking down barriers to opportunity: this conference will be the moment where Sir Keir gets to the brass tacks of how these missions translate into real policies.
Three things to look for at Labour conference

There'll be announcements on the "first steps of what each of the missions are", says one of Sir Keir's core team. We are going to see concrete policies, specific first steps, campaigning elements for activists. It will be the equivalent of Sir Keir's pledge card to voters.
The approach will be different too.
In Manchester, the Conservatives used their conference to set down dividing lines for their opponent – trans and gender issues, motorists, immigration, high-speed rail, smoking – to try to draw Labour into rows they hope will play well with undecided voters.
Labour, meanwhile, wants to show it's a government-in-waiting, that it has more important stuff to do than taking pot shots at opponents, or each other.
"We don't need to make the case for change," explains one senior figure. "We'll do a bit of red meat for the hall, but we don't need to spend our conference attacking the Tories.
"We will be telling people what will be different with Labour."
So the tone will be professional, confident, but in no way complacent.
'Tories will throw some wild punches'
It's been nearly 20 years since Labour last won an election and they are desperate not to slip up, no matter how many banana skins the Tories toss at their feet.
Sir Keir will position himself as PM-in-waiting, while Rachel Reeves also has an enormous task this week to show herself to be the chancellor-in-waiting, and the person voters can trust with the nation's finances.
Labour knows Mr Sunak's election approach rests on falling inflation, economic upturn and tax cuts, with a lot of 'you can't trust Labour on the economy' thrown in. Ms Reeves has to prove to voters they can.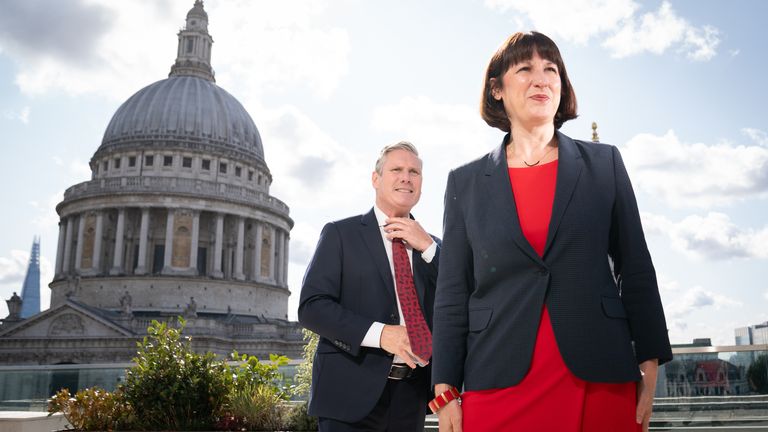 "Tony Blair was said to be a man carrying a priceless Ming vase across a highly polished floor as he approached the 1997 general election. The Ming vase now has economic credibility written on it," one adviser joked to me.
Be it the economy and spending, high-speed rail, immigration or social wedge issues around gender, Starmer's team is all too aware of the risks of being drawn into territory where the Conservatives want to fight, and will want to run the shadow cabinet with iron discipline in Liverpool.
Read more:
Labour vow to 'get Britain's future back' as conference kicks off
"The Tories are like a boxer going into the final round and losing," explains one senior party operative.
"They are going to throw some wild punches. Some will hit and some won't, but they have won the past four elections and won't be going down without a fight."
The task for Labour is to try to dodge the attacks, stick to their battle plan and finish the course.
But the task this week is also to not just offer reassurance, but hope.
Sir Keir needs to come out of the crouch position and assert a plan and vision of Britain that gives people a reason to vote for him that goes beyond being fed up with the incumbents.
How he does that without reverting to the spending lever for public services isn't an easy task, but it's one he needs to pull off as he looks to seal the deal with voters.