Wilko will shut the doors on its last remaining high street stores for the final time after the chain's collapse.
The 93-year-old retailer has been closing each of its 400 UK stores over the past month after collapsing into administration in August.
Forty-one stores now remain but will close on Sunday. The shelves have already become bare while the firm sells off its last remaining products to recover cash to cover its outstanding debts.
Almost all of Wilko's 12,500 workers are being made redundant.
The retailer collapsed after being hit hard by inflationary pressures, competition from rivals and supply chain challenges.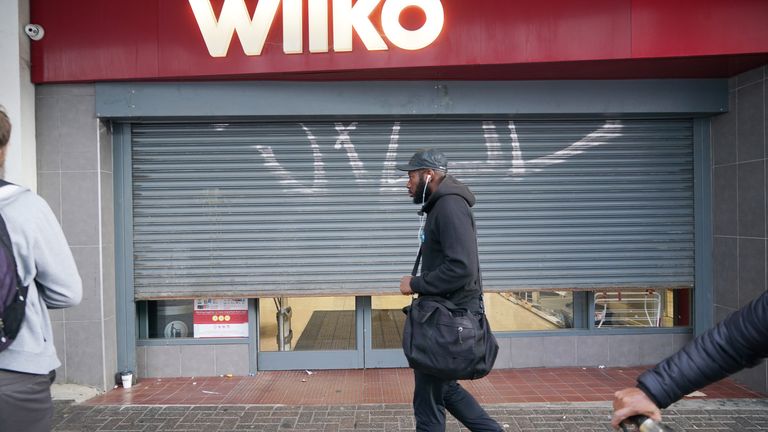 Administrators PwC were called in but talks with interested firms failed to secure a rescue deal for the whole company with a potential takeover by HMV owner Doug Putman collapsing.
Although more than 120 Wilko stores – just over a quarter of its estate – were sold to discount retailing rivals, as many as 12,000 high street and head office jobs are expected to be lost.
Roughly 70 stores were sold to the owner of Poundland, with a further 51 Wilko sites sold to B&M European Value Retail.
Read more:
Wilko creditors face vast losses
'Death knell': All Wilko stores to close
Those deals did not, however, protect the jobs at those stores.
The Range, another value retailer, bought Wilko's brand and online assets.
Administrators for Wilko confirmed in filings last week that the business owed around £625m when it went bust.
The documents also showed the retailer's pension fund was left more than £50m in deficit and is unlikely to receive more than £4m following the insolvency process.