The foreign secretary has called on supporters of Palestinians to stay at home after protests over the conflict between Israel and Hamas in London.
James Cleverly said the protests were causing concern in the Jewish community, "who have often been on the receiving end of prejudice and threats of violence".
"There is no need, there's no necessity for people to come out. It causes distress," he told Sky News.
"This is a difficult, delicate situation… I would encourage them just to pause."
Politics live: Keir Starmer to promise anti-social behaviour crackdown
Supporters of both Palestinians and Israelis took to the streets of London on Monday to attend vigils and protests after the conflict heightened over the weekend when Hamas launched an unprecedented attack against Israel.
Protesters gathered outside Downing Street and the Israeli embassy in west London.
The Metropolitan Police said three people were arrested and officers will continue to have an "enhanced visible presence" in the capital, with a special focus placed on Jewish communities.
Israel-Gaza latest: Bodies of 1,500 Hamas militants 'found in Israeli territory'
Mr Cleverly said while he supports the right to protest, Hamas "is a proscribed terrorist organisation and so it is an offence to fly their banners".
He argued there is no "equivalence" between Hamas's attack and Israel's response.
Asked whether he wanted to offer support to people in Gaza, who are facing a siege from the Israeli government, he objected to the premise of the question.
"The truth is that the reason we express our solidarity with the people of Israel is because terrorists took action to murder, to kidnap, and we're now seeing reports that they are threatening to execute people that they have kidnapped.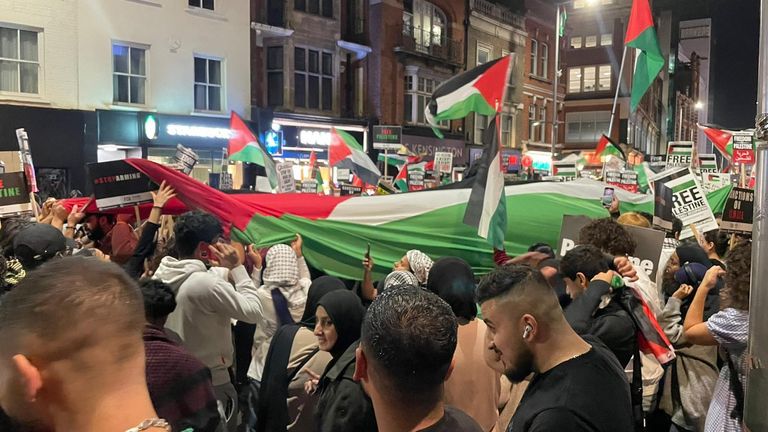 "The idea that somehow there is an equivalence, there is a kind of a balancing act between the actions of the Israeli government and their self defence, and the actions of Hamas and their terrorists, is completely inappropriate.
"I wouldn't want to do anything which would imply that to be the case. Of course, we want to see the minimisation of loss of life."
Palestinian militant group Hamas – which is banned as a terrorist group by the UK government – sent fighters across the border to Israel and fired thousands of rockets in an unprecedented attack on Saturday, which also saw a music festival targeted.
Read More:
Watch 'horrific and brutal' videos of Hamas attacks, ex-MP says
Survivors describe worst terror attack in Israeli history
Some 900 Israelis have been killed, according to the Israeli military, with authorities in Gaza saying about 700 have been killed in the territory and the West Bank.
Since the weekend's atrocities, Israel has sealed the Gaza Strip off from food, fuel, medicine and other supplies, while launching retaliatory air strikes on the Hamas-ruled territory, which is home to 2.3 million people.
Hamas has pledged to kill captured Israeli hostages if attacks target civilians in Gaza without warnings.