Debris from the Titan submersible has been recovered – including "presumed human remains", the US Coast Guard has said.
Marine safety engineers say fresh evidence has been gathered from the seafloor of the North Atlantic Ocean, four months after the doomed vessel went missing.
The debris is now being analysed by US medical professionals as an investigation into the tragedy continues.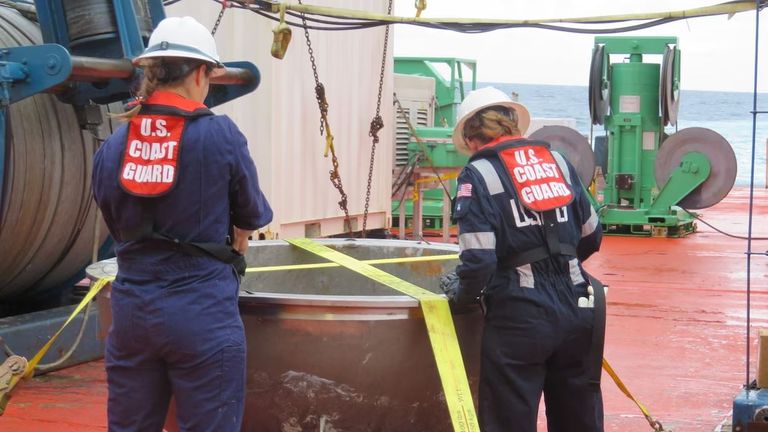 A public hearing is going to be held once experts determine what caused the sub to malfunction during a 3,800m (12,500ft) dive to see the wreck of the Titanic.
News that the vessel had gone missing had sparked a frantic four-day search to save those on board, but all five passengers died.
Father and son Shahzada and Suleman Dawood, British billionaire Hamish Harding, French sub pilot Paul-Henri Nargeolet and Stockton Rush, the chief executive of the company that owned the submersible, were killed when the vessel suffered a catastrophic implosion.
The Marine Board of Investigation has previously said it hopes its inquiry will "help ensure that a similar tragedy does not occur again".
During the dive, the victims would have likely been in pitch darkness with only bioluminescent sea creatures visible through the vessel's 53cm (21in) porthole. The sub's floodlights were turned off until it reached the seabed in order to save battery.
How the search for the missing sub unfolded
'We had one shot on Titan'

According to experts, the evidence suggests that the Titan's carbon fiber hull collapsed – and those on board would have died instantly.
"The only saving grace is that it would have been immediate – literally in milliseconds," David Mearns, a rescue expert who knew two of the five men on board, told Sky News at the time. "The men wouldn't have known what was happening."
Hopes of a rescue were dashed when an area of debris was found about 500m (1,600ft) from the Titanic.
Titan search leader gets emotional recalling rescue

Deep sea expert Jesse Doren, who was involved in the rescue effort, said: "We'd spent four or five days… expecting to go down there and perform a miracle.
"Obviously, our sense of disappointment is minuscule compared to the people who are close to the families of those who were lost."