Israeli Prime Minister Benjamin Netanyahu has said Hamas is the "enemy of civilisation" and will be "crushed".
Speaking alongside US Secretary of State Antony Blinken, Mr Netanyahu thanked Washington for its support since Hamas's attack – adding the militant group should be treated "exactly as ISIS was treated".
Mr Netanyahu said "no country should harbour" Hamas militants, and those that do should be sanctioned.
While visiting the Middle East, Mr Blinken will try to help secure the release of hostages kidnapped by Hamas – with Israel claiming they have identified 97 captives – and hold talks around a humanitarian corridor in Gaza.
Israel prepares for ground invasion – follow live conflict updates
Some of the hostages are American.
It comes as Israel continues to strike the Gaza Strip, warning it will not break its siege until all hostages taken by Hamas are freed.
The Red Cross has pleaded for fuel to be allowed in to prevent hospitals from "turning into morgues" while Israel blocks all goods from entering the strip of 2.3 million people.
In other key developments:
17 British nationals, including children, killed or missing, Sky News understands
Missing Irish-Israeli woman confirmed dead
Met Police appeals for people to send them footage of attacks in Israel
22 Americans have been killed, US state department says
Netanyahu and opposition agree to form emergency government
UK foreign secretary runs for cover during Israel visit
At least 1,300 Israelis dead and more than 2,700 injured, IDF says
At least 1,100 Palestinians dead and 5,184 injured in Israeli strikes, Gaza Health Ministry says
UK royals issue statements in solidarity with Israel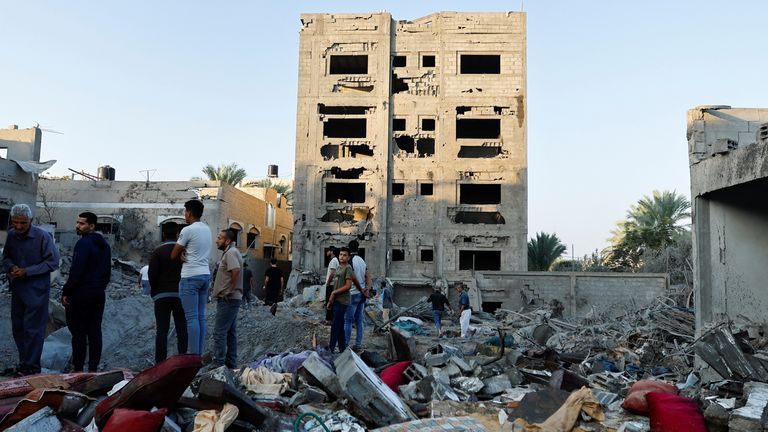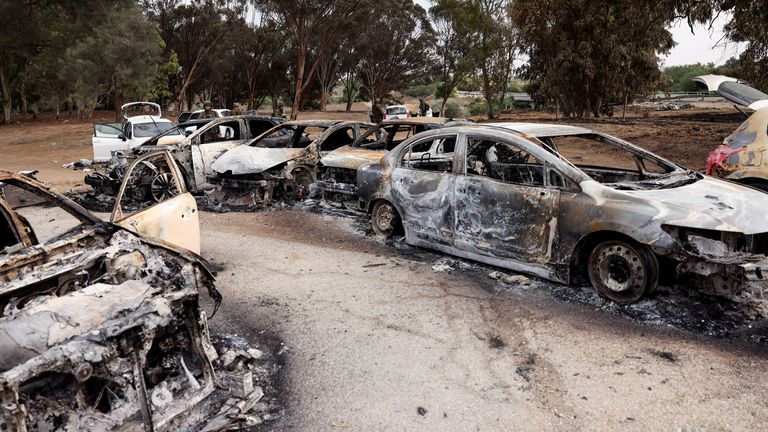 The Israelis say they are destroying Hamas's ability to govern after the militant group's surprise attack on Saturday, during which hostages were taken back to Gaza.
Bodies of civilians killed in Hamas attacks show signs of torture "unlike anything seen before", Israeli president Isaac Herzog said.
While many anticipate the bombardment of Gaza will precede a ground offensive, IDF (Israeli Defence Forces) spokesperson Lt Col Richard Hecht said no decision has been made on a ground operation yet.
"Anyone who will come near the fence will be shot – anyone," he said, adding Hamas is still trying to come into Israel through the sea. "No one's coming in, no one's coming out."
Bombardment at dawn in Gaza City

Read more:
What would Israel's ground attack look like?
How Hamas militants prepared for brutal ground assault
Meanwhile, about 340,000 people have been displaced in Gaza, where Sky News spoke to a mother who found her home "bombed entirely".
"There's nothing left," she said. "There's nothing visible in the house. It's been bombed entirely… where shall I go?"
In Gaza's Al Shati refugee camp, residents were sifting through rubble with their bare hands to search for survivors.
Rescue workers say they lack fuel and equipment to dig victims out of collapsed buildings.