A lottery customer who bought a Powerball ticket in a little town in California has become the second biggest winner ever.
The mystery winner with the ticket for a whopping $1.7bn (£1.44bn) prize has yet to come forward since the lucky numbers were announced on Wednesday.
It's the talk of the mountain town of Frazier Park, which only has 2,600 residents.
It was dubbed "the most exciting news ever to happen to Frazier Park" by Nidal Khalil, co-owner of the store where the winning ticket was purchased.
Mr Khalil and his family have their own reasons to celebrate, as their Midway Market & Liquor store has been handed a $1m cheque for selling the ticket.
He added that he hoped the winner was one of his regular customers, most of which are local retirees.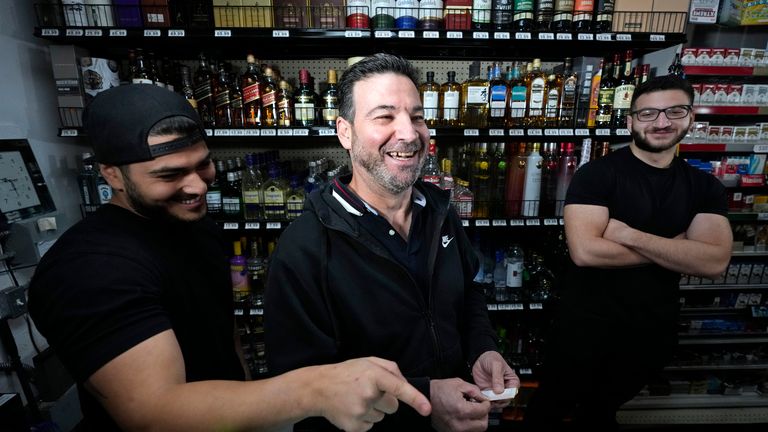 The shop's clerk, Janea Herrera, is convinced the winner will be from the town.
"We're not that close to the freeway, so you have to go out of your way to come here," she said.
"It's a tightknit community. Everybody knows each other," she said, describing the town 75 miles north of Los Angeles as "pretty quiet" and "beautiful".
The shop's night worker, who goes by "Duke", added: "The phone's been ringing off the hook, people saying congratulations. Pretty crazy.
"Somebody owes me a truck," he said with a smile. "A lot of customers come in, you know they come in every day to get their tickets, religiously. And a lot of them said: 'Oh, if I win, I'm going to get you a new truck'.
So, where's my truck? I'll be waiting."
Whoever holds the jackpot ticket, according to Californian laws, will not be allowed to remain anonymous once they claim their winnings.
Powerball's odds of 1 in 292.2 million are designed to generate big jackpots, with prizes becoming ever larger as they repeatedly roll over when no one wins.
There had been 35 consecutive drawings without a big winner, leading to such a massive total sum.
The only top prize that was ever bigger was the $2.04bn (£1.66bn) Powerball won by a player in California last November after 41 consecutive draws.
Winnings are subject to taxes, meaning the lucky customer will have a take-home of around $774.1m (£628.3m).
They have the choice of receiving the jackpot in instalments over 30 years or a lump cash sum.