Rishi Sunak is set to reiterate the UK's total condemnation of Hamas's attack on Israel during an address to MPs later.
Before making a statement in the Commons, the prime minister is expected to make a visit this morning to demonstrate the government's continued support for the Jewish community and zero-tolerance for antisemitic abuse.
It follows a weekend that saw growing international efforts to stop the ongoing conflict between Israel and Hamas from escalating further.
Palestinians in Gaza remain braced for an imminent Israeli ground invasion, a week after Hamas militants launched a deadly assault on the country.
Click to subscribe to Politics at Jack and Sam's wherever you get your podcasts
Mr Sunak's statement in parliament is expected to set out how the UK is supporting Israel and aiding British nationals caught in the fighting, as MPs return to Westminster following a lengthy party conference break.
It will also detail ministers' response to the humanitarian situation inside Gaza.
It comes after Downing Street welcomed King Abdullah II of Jordan on Sunday evening, as the ruler embarked on a tour of Europe to rally international support to stop the war.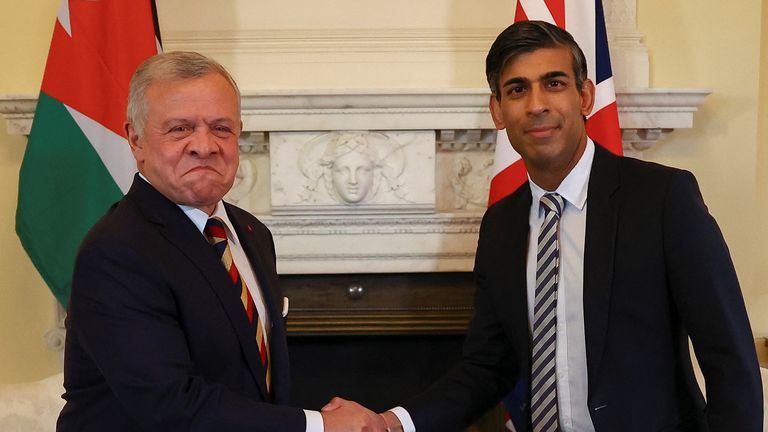 Number 10 said Mr Sunak would hold talks with other leaders and international partners in the days to come, as the conflict showed little sign of coming to a swift conclusion.
The United Nations and global aid agencies have all expressed concern about the deteriorating humanitarian situation in Gaza, after Israel urged civilians in the north of the Gaza Strip to evacuate to the south.
Read more from Sky News:
Recovered bodies show effects of 'bloodthirsty' gunmen
Benjamin Netanyahu 'shouldn't' lead Israel, ex-PM says
Inside the military base where Israeli troops train
Up to 1.1 million people on the sliver of land were offered safe passage south of the Wadi Gaza river by Israel's Defence Forces until 4pm local time on Saturday (2pm BST), ahead of what is expected to be an all-out offensive by land, sea and air.
'Incursion into Gaza is imminent'

Meanwhile, Foreign Secretary James Cleverly indicated that about 10 British people are currently being held hostage by Hamas.
Speaking on Sky News' Trevor Phillips On Sunday Morning programme, the cabinet minister also said that 10 was "not an unreasonable estimate" and insisted the UK will maintain support for those trapped.