Andrew Bridgen has demanded an apology from a fellow MP after he allegedly slapped him on the back of the head and called him a "b******".
Mr Bridgen, who joined the Reclaim Party after being kicked out of the Conservatives, reported former Tory minister, Crispin Blunt, to parliamentary authorities and, on Monday, demanded he say sorry for what he called "unbelievable behaviour".
The MP for North West Leicestershire, said the incident occurred at Portcullis House, and was "completely unprovoked".
He said Mr Blunt "hit him on the back of the head with his hand and said, 'You're a b******' and then legged it off".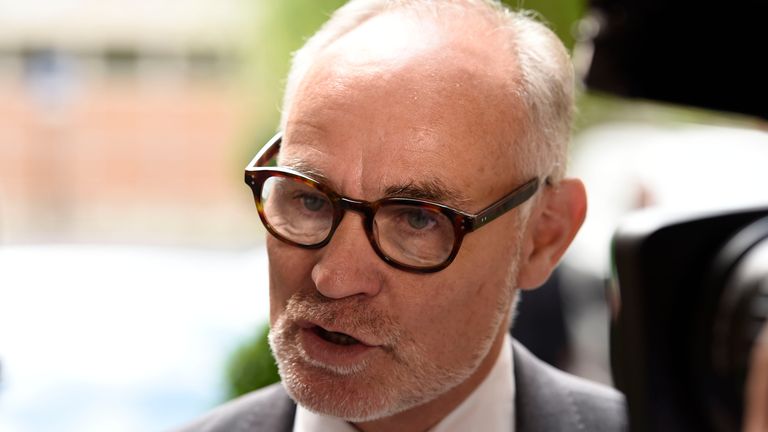 "I was just completely shocked. That's not the behaviour you would expect from a Member of Parliament," Mr Bridgen said.
Parliamentary officials confirmed they were aware of the incident in the atrium of Portcullis House and said the Commons authorities and the whips office were dealing with it.
Mr Blunt, who represents Reigate, has not responded to requests for comment.
Read more from Sky News:
Tory MP Peter Bone faces six-week Commons suspension
Sunak says six Britons killed and 10 missing after Hamas attack
It is far from clear how much Rishi Sunak can do in the Israel-Hamas war
Mr Bridgen believed the only thing that might have led to the incident was him having questioned to a newspaper why he had the whip removed by the Tory party, but Mr Blunt has not over past comments he made about Hamas.
'UK could be complicit in Gaza war crimes'

A parliamentary spokesman said: "The Behaviour Code makes clear the standards of behaviour expected of everyone in Parliament – whether MPs, staff, Members' staff, members of the House of Lords, press, contractors or visitors.
"There is zero tolerance for abuse or harassment."