A stake of up to 10% in the Premier League football club West Ham United has been put up for sale, providing the latest test of international investors' appetite for a slice of one of England's top-flight clubs.
Sky News has learnt that Vanessa Gold, daughter of the late businessman David Gold and a joint-chair of West Ham, is working with bankers at Rothschild to sell a chunk of her family trust's 25% shareholding.
One prospective investor who has been alerted to the deal said on Tuesday that Ms Gold was expected to sanction the sale of up to 10% of last year's Europa Conference League winners.
A number of funds are said to have been sounded out in recent days about a potential deal.
Football industry insiders said any transaction was likely to value the Hammers at a premium to the roughly-£650m price put on the club by the sale of a 27% stake to the Czech billionaire Daniel Kretinsky in 2021.
That would reflect West Ham's repeated ability to sell out the 62,500-capacity London Stadium, and last season's triumph in European club competition for the first time.
The Hammers, managed by David Moyes, sit in ninth position in the Premier League table, having lost 1-0 at home to Everton at the weekend.
Like many top-flight clubs, West Ham have a syndicate of wealthy shareholders.
Mr Kretinsky retains the stake he bought two years ago, while David Sullivan owns just under 39% and the financier Tripp Smith holds 8%.
One source said a number of sports investment funds which focus on owning minority stakes were expected to be interested in buying a stake of about 10% in the club.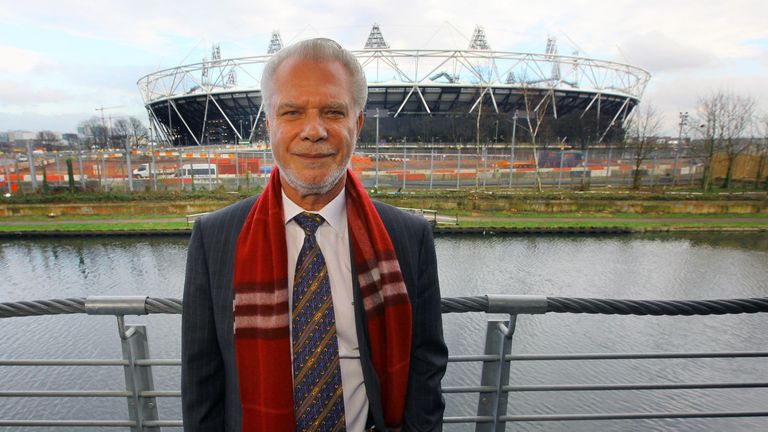 In a statement issued following an enquiry from Sky News, Ms Gold said: "I would consider selling a proportion of our shares to the right partner.
"I have spoken to each of the other three major shareholders at West Ham United: David Sullivan, Daniel Kretinsky and Tripp Smith, who have been very supportive.
"Any transaction to purchase some of our shares will be with my father's legacy at the forefront of my mind which, of course, prioritises his beloved West Ham United.
"I have appointed Rothschild & Co to advise us on any discussions and will keep the other shareholders, the club and our supporters updated on any significant developments."
The process to offload the stake comes amid continuing interest in owning a piece of the world's richest domestic football league.
The Glazer family is closing in on a deal to sell a 25% stake in Manchester United to Sir Jim Ratcliffe, the Ineos billionaire – a deal exclusively revealed by Sky News earlier this month.
In September, Liverpool announced that Dynasty Equity, a US-based private equity firm, had bought a small minority stake in the club.
There is also ongoing scrutiny of the ownership of clubs including Tottenham Hotspur, while Everton has announced its proposed sale to 777 Partners – a deal which has yet to receive regulatory approval.
The latest flurry of takeovers and minority deals comes as the Premier League prepares to sell its next cycle of domestic broadcast rights, the lion's share of which are currently held by Sky News' parent company.
Read more from Sky News:
14 million UK adults used buy now pay later in six months, the FCA says
Food inflation at '8.8%' in year to October
US carmaker strikes over as GM strikes deal with union
A new financial redistribution deal that will see Premier League clubs hand hundreds of millions of pounds over a six-year period to their lower-league counterparts remains under discussion.
The government is expected to include legislation to establish an independent football regulator in next week's King's Speech.
A spokesman for West Ham declined to comment, while Rothschild also declined to comment.