Boris Johnson suggested he saw COVID as "nature's way of dealing with old people" and was "obsessed" with them accepting their fate, the inquiry into the pandemic has heard.
During a hearing on Tuesday, notes were shared from the government's former chief scientist describing a "bonkers set of exchanges".
Sir Patrick Vallance wrote in one of his notebooks in August 2020 that Mr Johnson was "obsessed with older people accepting their fate and letting the young get on with life and the economy going. Quite bonkers set of exchanges".
Politics Live: Top aides to Boris Johnson giving evidence at COVID inquiry
Another note from Sir Patrick in December 2020 suggested the then prime minister agreed with Tory MPs that COVID was "nature's way of dealing with old people".
Sir Patrick wrote: "PM told he has been acting early and the public are with him (but his party is not). He says his party 'thinks the whole thing is pathetic and Covid is just Nature's way of dealing with old people – and I am not entirely sure I disagree with them. A lot of moderate people think it is a bit too much'. Wants to rely on polling."
The messages were shared during Lee Cain's evidence session, where he faced questions about government decision-making at the height of the pandemic.
Mr Cain was one of Mr Johnson's closest political allies as his director of communications – but he quit the role in November 2020 amid bitter behind-the-scenes in-fighting.
He told the inquiry that the former prime minister was indecisive over whether or not to impose a circuit-breaker lockdown in September 2020 because it was "very much against what's in his political DNA".
Mr Cain said his own research led him to believe that the public mood was more cautious, contrary to that of the Tory Party.
Counsel to the inquiry Andrew O'Connor asked: "And was this one of the factors that underpinned the prime minister's indecision later in 2020, September/October time, whether or not to have a circuit-breaker lockdown?"
Mr Cain said: "Yes…he felt torn where the evidence on one side and public opinion and scientific evidence was very much caution, slow – we're almost certainly going to have to do another suppression measure, so we need to have that in mind – where media opinion and certainly the rump of the Tory party was pushing him hard (in) the other direction."
The session also heard:
Mr Cain thought Mr Johnson was the "wrong" prime minister for COVID as he "oscillated" on key issues;
His inability to make a decision was described as "exhausting";
A lack of diversity in Johnson's top team led to the "wrong decision" on certain policies, including free school meals;
"Indecision" was a theme in Downing Street – and it took 11 days to implement a lockdown from deciding there needed to be one.
Johnson 'in Jaws mode' before announcing lockdown
Other messages shared at the session revealed Mr Johnson was "melting down" and going into "Jaws Mode" in the week before the UK's first national lockdown.
The hearing heard that a crunch meeting on 14 March saw key government figures agree that a lockdown was needed – but one was not implemented until 10 days later.
In between that time, texts show Mr Johnson's former top aide Dominic Cummings venting about the then prime minister returning to "Jaws mode" – a reference to the mayor in the Spielberg film who wanted to keep the beaches open.
The messages to Mr Cain on 19 March while Mr Cummings was in a meeting with Mr Johnson read: "Get in here he's melting down.
"Rishi saying bond markets may fund our debt etc. He's back to Jaws mode w****.
"I've literally said same thing 10 f****** times and he still won't absorb it.
"I'm exhausted just talking to him and stopping the trolley.
"I've had to sit here for two hours just to stop him saying stupid s**t."
Mr Cain replied: "I'm exhausted with him."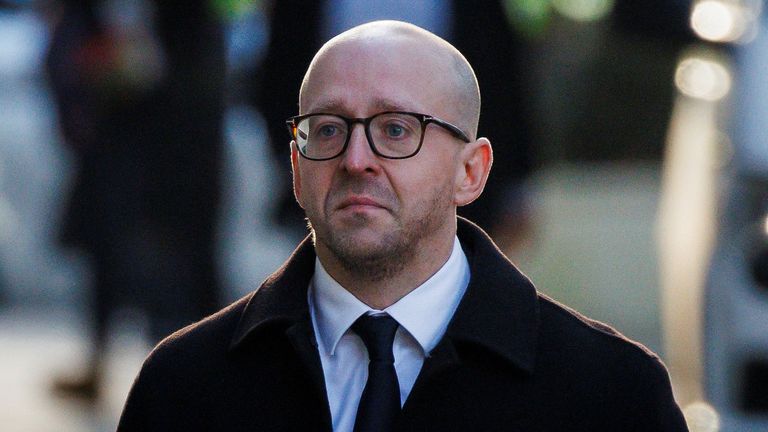 Explaining the Jaws reference, Mr Cain told the inquiry that Mr Johnson would refer to the mayor from the Jaws film "who wanted to keep the beaches open".
"I think he had a routine from previous in his career where he would use that as a joke from one of his after-dinner speeches," he said.
"The mayor was right all along to keep the beaches open because it would have been a long-term harm to the community – so it's a sort of sub-reference to that."
Cain asked if Downing Street was in 'chaos'

Mr Cain did not go as far as an assessment from Mr Cummings that Mr Johnson was not right for the job as prime minister.
But he conceded there was "chaos" in government when COVID started to spread and the pandemic was the "wrong crisis for this prime minister's skillset".
He said: "It required quick decisions and you need people to hold the course and have that strength of mind to do that over a sustained period of time and not constantly unpick things because that's where the problems lie."
Mr Cummings will appear before the hearing later this afternoon when he is expected to dish the dirt on his old boss.
Johnson 'failed to recognise tsunami of death'
It comes a day after the inquiry heard evidence from Martin Reynolds, the civil servant dubbed "Party Marty" due to his role in the partygate scandal.
The hearing revealed Mr Johnson's closest advisers sent despairing messages about his apparent indecision at the height of the pandemic, with one venting that he "cannot lead" and was making government "impossible.
Deborah Lewis, the founder of a group for bereaved COVID families, said hearing about government failures during the inquiry is making it hard to "get closure" and move on.
She said when Mr Johnson appears before the inquiry he will need to answer "why he failed to recognise the tsunami of death that was heading towards us and why he didn't take it seriously in the first place."
She told Sky News: "We need to know why (the government) did that. Why were all of our loved ones not protected in the way they should have been by our government? "