Suella Braverman wants to restrict the use of tents by homeless people in built-up areas, according to a report.
The home secretary's proposals are said to include allowing charities to be fined if they give out tents that become a nuisance.
Ms Braverman wants the plans included in two clauses of a new criminal justice bill, according to The Financial Times, quoting Whitehall sources.
The potential new law would reportedly apply to tents that become a nuisance – such as by blocking shop doorways.
"Braverman has formally pitched a ban on tents in urban areas – except on your own land or the back garden – as well as a new civil penalty for charities to stop them giving out tents to homeless people for free," one source told the FT.
The proposed tent restrictions would be applied alongside support for the people affected, such as helping them get into a shelter, said the Whitehall insiders.
Sky News has contacted the Home Office for comment.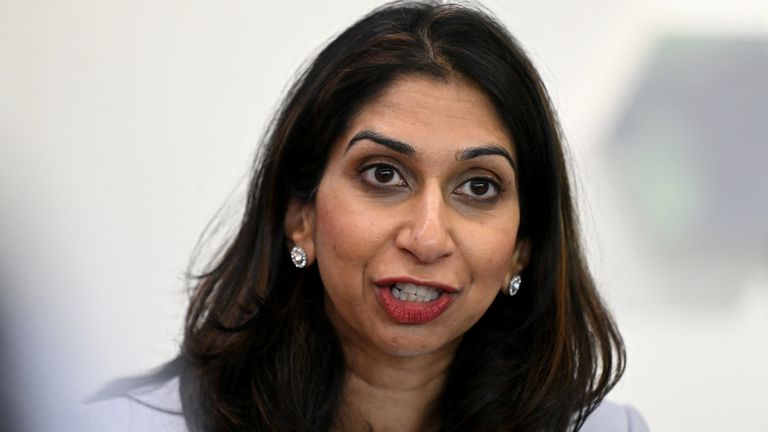 The government last year said it would repeal the 1824 Vagrancy Act, which made begging and rough sleeping illegal, and promised £2bn over three years to help get people off the streets.
But the opposite appears to be happening – and a recent report said rough sleeping was up 26% on last year.
The study said many of the problems stem from a severe shortage of affordable housing and a lack of appropriate support services.
This, combined with the cost of living crisis, is pushing more people into homelessness.
The government's rough sleeping snapshot for autumn 2022 said just over 3,000 people were estimated to be sleeping rough in England.
Read more form Sky News:
Homeless admitted to hospital rises 60% in four years
Govt to miss target to end rough sleeping by 2024 – report
Click to subscribe to the Sky News Daily wherever you get your podcasts
Prince William is among those campaigning on the issue and has launched a project called Homewards which aims to bring together organisations and people to find local solutions.