British Steel has revealed a decarbonisation plan that could result in the loss of 2,000 jobs in Scunthorpe, according to unions.
The Chinese-owned company confirmed it was to shut down its blast furnace and replace it with two cheaper, greener electric arc furnaces (EAFs) – one of which was to be located up the coast on Teesside.
The area lost its steelworks in 2015 when the Redcar plant was mothballed with the loss of 1,700 jobs.
Jingye Group said its plans were aimed at making UK-produced steel competitive again and creating a sustainable future for the business.
While it did not put a figure on the number of jobs to be lost, the company has long argued that high energy and labour costs are a barrier to profitability.
It said that the proposed £1.25bn investment was subject to a government grant, understood to be worth £300m.
British Steel CEO Xijun Cao said: "Decarbonisation is a major challenge for our business but we are committed to manufacturing the home-made, low-embedded carbon steel the UK needs.
"We have engaged extensively with the public and private sector to understand the feasibility of producing net zero steel with our current blast furnace operations. However, thorough analysis shows this is not viable.
"Detailed studies show electrification could rapidly accelerate our journey to net zero and drive British Steel towards a sustainable future."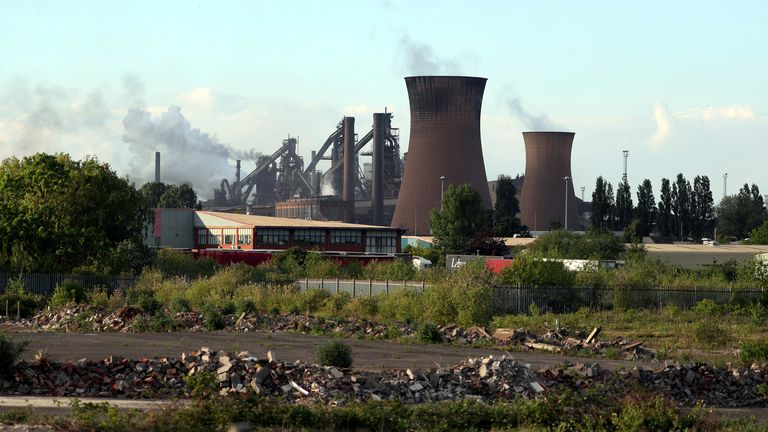 The new furnaces could be operational by late 2025, the company added.
The decision is set to leave the country without an industrial grade steel manufacturing capability.
That is because India's Tata Steel plans to close down its two blast furnaces at the sprawling Port Talbot works in south Wales, risking up to 3,000 jobs, through its own decarbonisation and cost-cutting plan.
EAF–produced steel is more energy efficient and tends to be made from scrap.
Community Union general secretary Roy Rickhuss responded: "We are deeply concerned by British Steel's plans for an EAF-only approach at Scunthorpe and Teesside, and it is vital a meaningful consultation takes place to assess all the options to secure the future of steelmaking.
"Were they to be realised the plans that British Steel has announced, combined with Tata Steel's plans, would leave the UK unable to make steel from raw materials and dangerously exposed to international markets.
"Community firmly believes that the blast furnaces continue to be vital in any responsible transition to green steelmaking."