In downtown Miami at what is usually a centre for the performing arts, preparations are under way for a piece of political theatre.
But the man who should be the lead act is setting up his own show a few miles up the road.
Posters for the third Republican debate have been slapped on every spare inch of the Adrienne Arsht Center with metal barriers marking the perimeter of the building.
On Wednesday evening local time, five of the leading Republican candidates vying to be president will take to the stage inside, in a debate which will be relayed to millions of Americans live on NBC.
The issues are likely to range from the Israel-Hamas conflict to the economy and who can beat Joe Biden next year.
But the man most likely to actually beat Mr Biden won't be there. Because while his Republican rivals are facing off, Donald Trump will be enjoying uninterrupted and unchallenged stage time at his own rally on the other side of town. Just how he likes it.
Mr Trump doesn't believe he has to partake in these debates to get the nod from Republican voters and polling suggests, emphatically, he's right.
His lead has only grown since he missed the first, then the second debate. By most estimates, he's now at least 30 points clear of his closest rivals, Ron DeSantis, the current governor of Florida, and Nikki Hayley, a former governor of South Carolina, who is positioning herself as the leading anti-Trumper in the race.
Republican strategist Ryan Williams is convinced the debates are a race for second place.
Trump's 'political rally' from court

"And a distant second place at that," he says. "It would have to be an unforeseen event, an illness or an accident or him being hit by a meteor to stop Trump becoming the nominee."
Being a no show at debates hasn't diminished the possibility of Mr Trump's second coming, nor has the merry-go-round of civil and criminal charges against him.
Only this week, he was on the witness stand in a New York court in a case in which it has already been decided he committed fraud. Next year he will stand trial accused of committing crimes against the state. But his support is deepening and not just against Republican rivals.
Polling by the New York Times and Siena this week shows Donald Trump ahead of President Biden in five of six key swing states that Mr Biden won last time round.
"If polls showed him falling behind it might provide an opening for someone," said Williams.
"But that polling shows that these four prosecutions are not only not harming him with Republican primary voters, they're not hurting him with independents either. It dispels any attack another candidate might make about him being unelectable."
The debate is the first since the Israel-Hamas war began and America's role in the Middle East will likely be sparred over, too.
Nikki Hayley, who has some momentum after the last debate, supports Israel but believes America should only have a limited role in the conflict.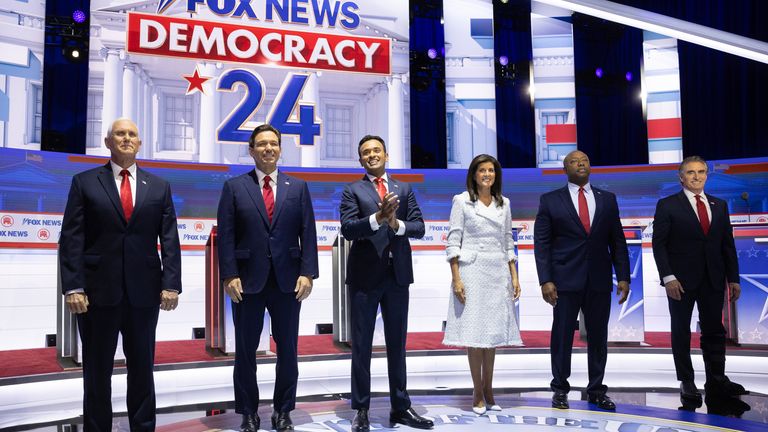 Ron DeSantis is more aggressive in his support, boasting that planes contracted by Florida brought "hospital supplies, drones, body armour and helmets" to first responders in Israel.
Read more:
What are the investigations Trump is facing?
What we know about Trump's plans if he returns to White House
Analysis: Carefully curated TV debates are needed both sides of the Atlantic
Mr Trump was initially critical of Prime Minister Benjamin Netanyahu in the wake of the 7 October attacks, saying he was unprepared. He also called Hezbollah, a Lebanese militant organisation designated a terrorist group, "smart".
But Israel is unlikely to be a huge determining factor in the Primaries.
"Trump has such strong record of supporting Israel," says Williams.
"He was the first American president to move the embassy to Jerusalem, and he has a history of siding with Israel completely, so it will be hard to pierce his armour on this."
It will take some other political cunning or an unexpected event, to overhaul Mr Trump at this stage. But there is still time for these candidates to sell themselves, if any Republican voters out there are still listening.
Watch the Republican presidential primary debate live on Sky News on Thursday: Tune in from midnight on Sky News channel 501, Freeview channel 233 or stream on the Sky News App or YouTube (outside the US)