Chancellor Jeremy Hunt has distanced himself from Home Secretary Suella Braverman's criticism of the Metropolitan Police.
Speaking this morning, Mr Hunt said: "The words that she used are not words that I myself would have used."
In her article in The Times published on Wednesday, Ms Braverman likened pro-Palestinian demonstrations to marches seen in Northern Ireland, and accused the Met of holding "double standards" and being more lenient to left-wing protests.
Yesterday morning, Downing Street claimed it had full confidence in the home secretary – although she has come under considerable criticism from within her party since.
Politics latest: PM under pressure to sack Braverman over Met criticism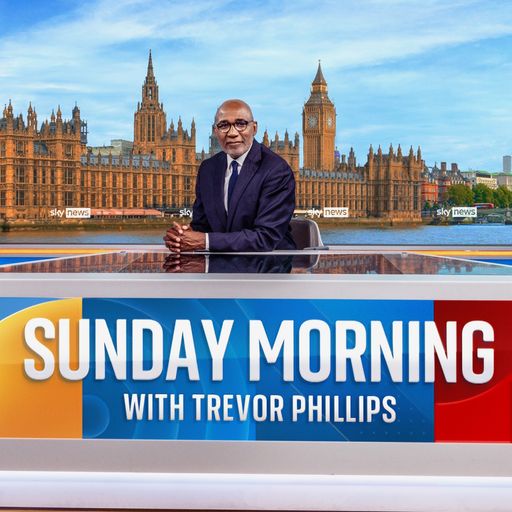 Sunday Morning with Trevor Phillips
Watch live each week on Sunday at 8:30am on Sky channel 501, Freeview 233, Virgin 602, the Sky News website and app or YouTube.
Mr Hunt said he had always given money to the home secretary to fund the police, and said the prime minister still had confidence in her.
Robert Halfon was asked repeatedly if Rishi Sunak had confidence in his home secretary by Sky News, but was unable to answer.
Instead, he said it was the prime minister's focus to ensure "remembrance services go ahead peacefully".
On three occasions, he refused to confirm if Mr Sunak backed his home secretary.
Asked about the article published in The Times on Wednesday evening – which Downing Street did not clear – Mr Halfon said there was an internal investigation into how it made it into print without sign-off from the prime minister's team.
Mr Halfon's first response to being asked if Mr Sunak had confidence in Ms Braverman was to say: "Look, the prime minister's focus is ensuring that the remembrance services go ahead peacefully.
"That's why he's met with the Metropolitan Police commissioner… Mark Rowley has assured the prime minister that the protests will be peaceful, that the remembrance services will go ahead safely and securely, and that has to be the priority."
Read more:
Sam Coates: A question of when – not if – Braverman leaves her job
More than 1,000 officers drafted in to help Met
Braverman scored a hat-trick of own goals and displayed breathtaking ignorance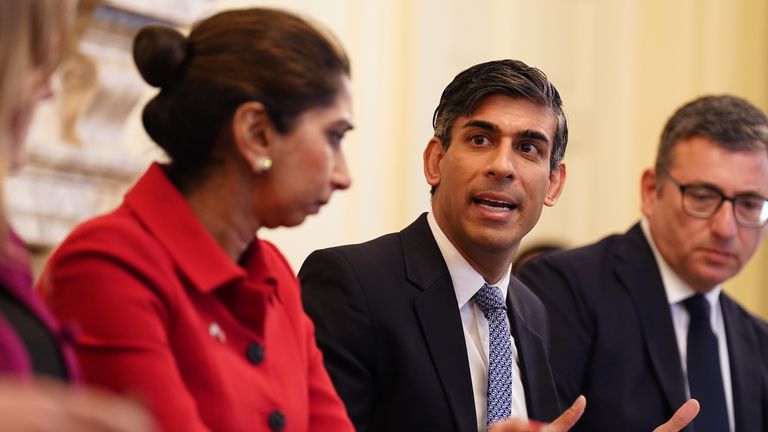 Mr Sunak had wanted the marches called off, but following a meeting on Wednesday with Sir Mark Rowley agreed they could go ahead.
If the Met feels it cannot staff the demonstrations properly, it can apply to the home secretary who can then ban them from taking place.
Some parts of the Conservative Party are being very vocal in their support of Ms Braverman, including Conservative deputy chairman Lee Anderson.
He appeared to join in her criticism of the Met, posting on social media that the home secretary had not "took the knee on Whitehall while BLM riot".
Mr Anderson added that it was Labour MPs who "want her sacked" that did this, but the Met also came under considerable criticism at the time for kneeling during Black Lives Matter demonstrations.
He said: "Suella is guilty.
"Guilty of saying what most of us are thinking and saying. Thank goodness we have a home secretary who refuses to be cancelled.
"She is using everyday language used by everyday people. Labour MPs would know this if they got out more."
Darren Jones, Labour's shadow chief secretary to the Treasury, told Sky News that Ms Braverman was "weaponising" the issue for her "own personal ambitions".
Click to subscribe to the Sky News Daily wherever you get your podcasts
Responding to Mr Anderson's tweet, Mr Jones said the Conservative Party spokesman was claiming the public would be happy for politicians to decide on an ideological basis "what issue can be protested and what issue can't be protested".
"I'm sorry, that's not the way that our democracy works," he added.
Mr Jones said the demonstrations should go ahead, but should "not disrupt" remembrance services.