Donald Trump's rivals for the Republican presidential nomination have taken to the stage in Florida as they try to dislodge the frontrunner from his commanding lead in opinion polls.
Local Governor Ron DeSantis and former UN Ambassador Nikki Haley both criticised the former president for skipping a third event.
Meanwhile, Mr Trump – who was holding his own rally just a few miles away – mocked the participants and demanded that the Republican Party stop "wasting time" with "unwatchable" debates.
The candidates spent much of the two-hour event attacking each other.
And with less than 10 weeks before the first state-wide nominating contest in Iowa, they will have one more opportunity to catch up with Trump on 6 December when a fourth debate will take place in Alabama.
With only five candidates qualifying for the stage – DeSantis and Haley were joined by US Senator Tim Scott, former New Jersey Governor Chris Christie and entrepreneur Vivek Ramaswamy.
Read more about the Republican candidates:
Nikki Haley – The only woman vying for the Republican nomination
Five things to know about Ron DeSantis
Who is Tim Scott? Republicans' only black senator
Who is Vivek Ramaswamy, the 'anti-woke' Republican?
Chris Christie – Trump's former friend who is 'going after' him
Despite being less chaotic than previous encounters, the debate still had its share of cutting exchanges.
At one point during a discussion about whether to ban TikTok, Ramaswamy noted that Haley's daughter had used the app, prompting Haley to warn him angrily not to mention her daughter again.
"You're just scum," she muttered.
Haley, who also served as South Carolina governor, and DeSantis, who has been in a distant second place behind Trump for most of the campaign, had their own clash over which governor had been too welcoming to Chinese investment.
Recent polls have shown the two jockeying for second place in early voting states.
As Wednesday's debate proceeded, the candidates largely focused on Democratic President Joe Biden, particularly during a lengthy segment on foreign policy and the Israel-Hamas conflict.
The Republicans all pledged unconditional support for Israel and attacked Mr Biden's handling of the crisis.
Asked what message they would send to Israeli Prime Minister Benjamin Netanyahu, DeSantis said: "I will be telling Bibi, 'Finish the job once and for all with these butchers Hamas, they're terrorists'," using Netanyahu's nickname.
Haley, who has staked much of her candidacy on her foreign policy credentials, criticised the president for pressing Israel to consider humanitarian pauses.
"The last thing we need to do is to tell Israel what to do," she said.
"The only thing we should be doing is supporting them and eliminating Hamas."
In addition to pushing for a more muscular response abroad, the candidates vowed to punish Hamas sympathisers at home.
DeSantis promised to deport any students who expressed support for Hamas.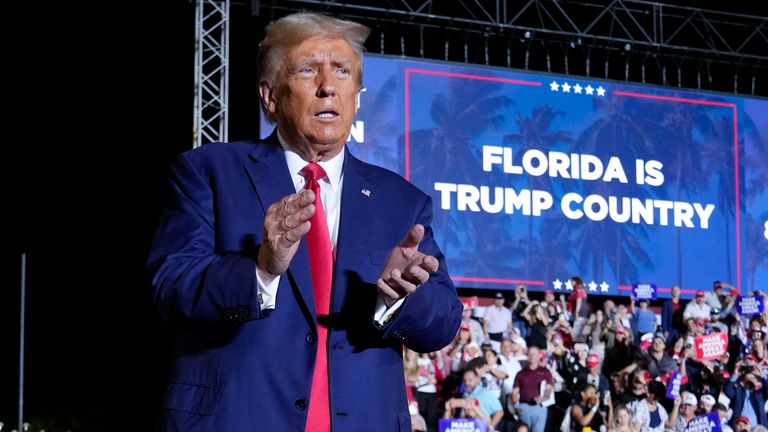 Nomination frontrunner Donald Trump held his own rally during which he likened the criminal cases against him to political prosecutions in Cuba and other repressive nations as he sought to court Hispanic voters.
Mr Trump, who is defending himself in four criminal and at least three civil trials, made the comments in the heavily Hispanic city of Hialeah.
His claims, however unsubstantiated, appear to be helping boost his standing with Hispanic voters, many of whom fled repressive regimes in Cuba, Nicaragua and Venezuela.
"Just like the Cuban regime, the Biden regime is trying to put their political opponent in jail," Mr Trump said to thousands of supporters assembled in a local sports stadium.
"We are not the ones endangering American democracy, we are the ones saving American democracy."