A menu for first-class passengers travelling on the Titanic has sold for more than £80,000 at auction.
The "remarkable" relic fetched £84,000 at Henry Aldridge & Son in Devizes, Wiltshire, on Saturday.
The menu, which shows signs of water damage, boasts a menu of oysters, beef, spring lamb and mallard duck.
It was served on the evening of 11 April 1912 after the liner left Queenstown in Ireland.
The Titanic struck an iceberg three days later – on the evening of 14 April – and sank the following day.
The menu measures 6.25ins by 4.25ins and bears an embossed red White Star Line flag.
It would have originally had gilt lettering with the initials OSNC (Ocean Steamship Navigation Company) alongside the lettering RMS Titanic.
'Remarkable survivor'
Auctioneer Andrew Aldridge said: "The latter shows signs of water immersion having been partially erased, the reverse of the menu also clearly displays further evidence of this.
"This would point to the menu having been subjected to the icy North Atlantic waters on the morning of 15 April, either having left the ship with a survivor who was exposed to those cold sea waters or recovered on the person of one of those lost.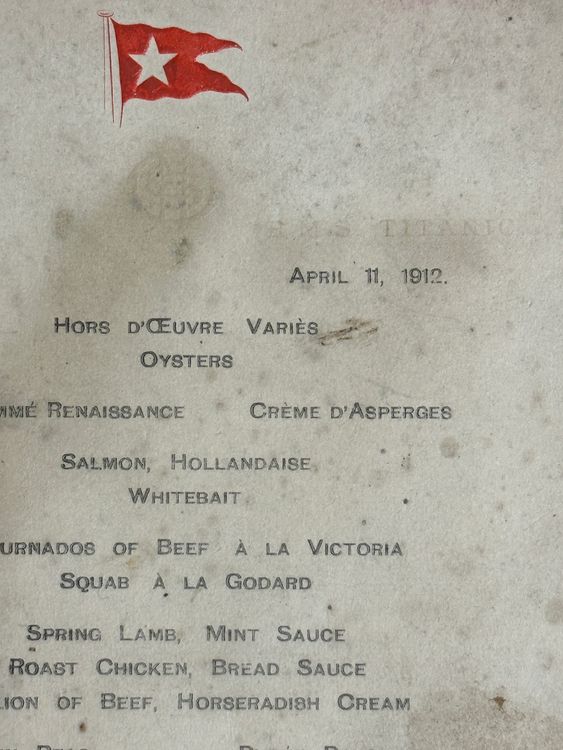 "Having spoken to the leading collectors of Titanic memorabilia globally and consulted with numerous museums with Titanic collections, we can find no other surviving examples of a first-class 11 April dinner menu.
"The menu is a remarkable survivor from the most famous ocean liner of all time."
Found in a photo album
The menu was found in a photo album from the 1960s by the daughter and son-in-law of late historian Len Stephenson.
He was an expert on his hometown Dominion in Nova Scotia and collected and preserved many records.
Read more:
Digital scan of Titanic reveals wreck as never seen before
Rare footage shows 'haunting' dives to Titanic wreck
More than 1,500 of the 2,208 passengers and crew on board the Titanic were killed when the liner sank.
The ship was on its maiden voyage from Southampton to New York.
First-class passengers included multi-millionaire John Jacob Astor, millionaire Benjamin Guggenheim, Sir Cosmo and Lady Duff Gordon and socialite Molly Brown.