White people are 36% more likely to receive a positive response when applying to rent a home than black people, Sky News has learned.
Exclusive figures provided by Generation Rent show apparent racism currently in the rental market.
The campaign organisation used artificial intelligence to set up two fake profiles, a black and a white one, on the rental website SpareRoom. The only differences in their details were their names and skin colour.
Enquiries were sent out by both profiles to property adverts randomly selected across the UK, within minutes of each other, with different responses.
Analysis of more than 210 adverts found that the white facing profile was 36% more likely to receive a positive response than the black facing profile.
The white profile was also 17% more likely than the black profile to receive any response at all.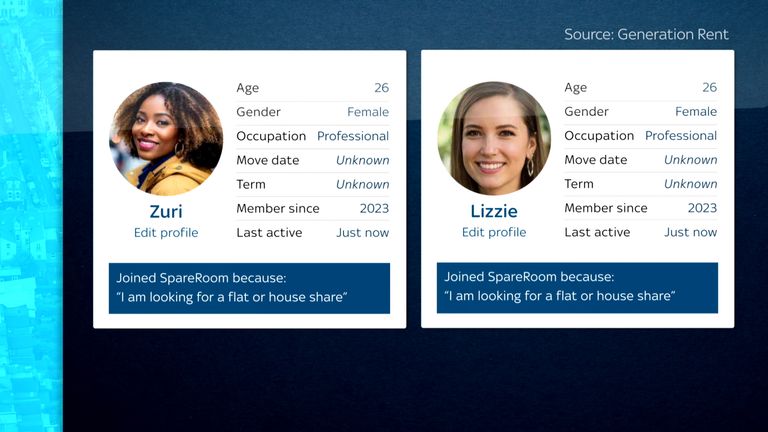 In one example the same message was sent by both profiles enquiring about a room in a townhouse.
"Hi there, I'm interested in the property, could I arrange a viewing please?" it read.
The white profile, named Lizzie, received this response: "Hi Lizzie, can you tell me a little about how long you would be looking for the room, do you work local etc. Many Thanks."
The black profile, called Zuri, received a different message stating simply: "Hello, sorry it's just been let."
Paris Williams, 25, has been living in a HMO (house of multiple occupancy) in London for the past two years and describes racism as a barrier to finding somewhere better to rent.
"I've had my passport inspected," she says, "(they asked) 'is it really a British passport? You can't be British', but why can't I be British?
"And then when you're going house searching [they] ask 'do you smoke weed? Because I have black tenants who smoke weed'.
"So you're stuck. You know that you've got bad conditions here but you can't move."
Paris says the situation she is living in is "hell".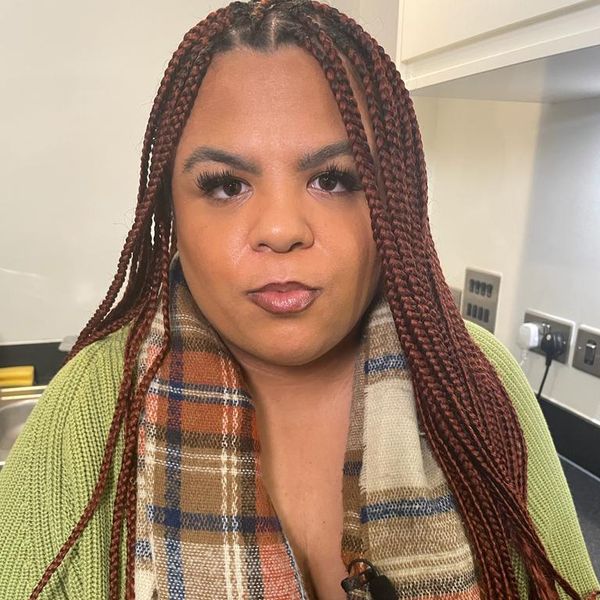 The policy adviser sleeps with an alarm under her room door because she feels unsafe as the front door to the HMO is often left open by other tenants.
She has previously found a stranger in her hallway and once discovered an unknown man taking a shower in her shared bathroom.
"He was clearly visibly homeless," she says. "He was wet, he didn't use a towel, he had no socks on. [He said] 'well your door was open so i just thought I could'."
In the last two years she has applied for multiple rentals, even changing her clothes, "stripping back" her makeup, and tying her hair back for viewings.
She says she can afford to rent somewhere better because the feeling of being unsafe in her own home is "gut wrenching".
"I describe it as fight or flight, you're never really calm, you're tense, you're always waiting for something to happen.
"Every little noise – is that something? is it not?"
Read more from Sky News:
Average rents in Britain hiked 10% over a year
'Wild west hostile marketplace'
Tilly Smith, campaigns and partnerships officer from Generation Rent, helped carry out the AI profile research after suspecting discrimination in the rental market.
She describes the knock-on effect it is having, in a broader sense, on ethnic minority groups looking for somewhere to live.
"They've been forced into this sort of wild west hostile marketplace where they may or may not be able to find a property," she said.
"So people become very placid and they feel they have to put up with poor quality housing with poor standards, with mould-ridden properties, with disrepair.
"There is the devastating issue of stress and worry of finding somewhere to live.
"There is also the more long-term enduring issue of people who are black, Asian, or minority ethnic who feel they have to put up with terrible conditions."
In a statement SpareRoom said their "discrimination policy states nobody can discriminate against or reject someone due to their race.
"We look into every single report of discrimination we receive and investigate thoroughly – if we find that racial discrimination has occurred we'll remove the user permanently."
While racism in renting is not a new issue it is believed that it may be getting worse due to the low supply of private rentals available verses demand.
Read more: London 'the only region with unaffordable rent', says ONS
'The current crisis will carry on'
Jabeer Butt OBE, chief executive of the Race Equality Foundation, says competition for "a smaller and smaller resource" may be making things worse.
"You can imagine racism is going to be at the forefront of that sort of thing," he said.
"But then the reality also is that we know what the solutions are, we know what we can do to make it better.
"We know a significant programme of building social housing will change the whole dynamic of the housing crisis that we face…we're not even managing to build affordable housing to the scale that we're meant to be doing.
"And until we do that, the current crisis will carry on or potentially get worse."